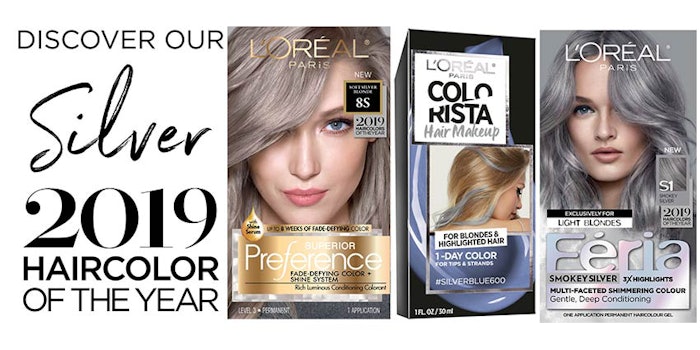 L'Oréal Paris has joined forces with Vogue magazine to introduce the 2019 Hair Color of the Year—and its taking some major inspiration from your grandma.
In shades ranging from blonde to smoky to blue, silver has taken the gold for 2019. The color was selected by L'Oréal color designers, who analyzed trends, search data, fashion shows, city streets, social media and more.
"Not only has silver hair been a top color trend on the runways and it is the 'it' color for women of all ages, we love what the color stands for – it symbolizes charisma, ethereal energy, power, focus and it is beyond chic," says Orrea Light, vice president of L'Oréal global marketing product development and beauty innovation. "As the world's #1 selling hair color brand, we are thrilled to now bring this color trend to people everywhere in an accessible way. Whether someone's desired result is sophisticated, daring, fun, or all three, they can find their perfect metallic match within the esteemed houses of Preference, Feria or Colorista."
L'Oréal Paris's 2019 Hair Color of the Year Collection includes:
Feria Smokey Silver—The Feria franchise is known for bold, edgy colors; Smokey Silver is formulated with multi-faceted icy silver and a deep, smoky undertone for a metallic silver shade
Superior Preference Soft Silver Blonde—A mix of warm blonde and a cool-toned silver for a "wearable" hue
Colorista Hair Makeup Silver Blue—A temporary solution for those who just want silver hair for a day; a gel cream formula mixed with icy silver pigments for a silver-blue color payoff
The 2019 Hair Color of the Year will be featured on Vogue.com, in the February issue of Vogue magazine, on both brands' social and digital channels, and during New York Fashion Week. Fans are encouraged to share their own silver hair by tagging @lorealhair using the hashtag #HairColorOfTheYear.
"While other aspects of beauty can surely make an impact, nothing quite compares to the effect of that perfect statement-making color. I have seen a big uptick in client requests for silver this year and love that L'Oréal Paris makes it easy to achieve at home," said Jonathan Colombini, L'Oréal Paris hair color consulting colorist and stylist. "The best part about the lineup is that it's color any way you like it – not only are they the shades of the moment, but they span different formulas and application techniques, which means there is a silver for every lifestyle."