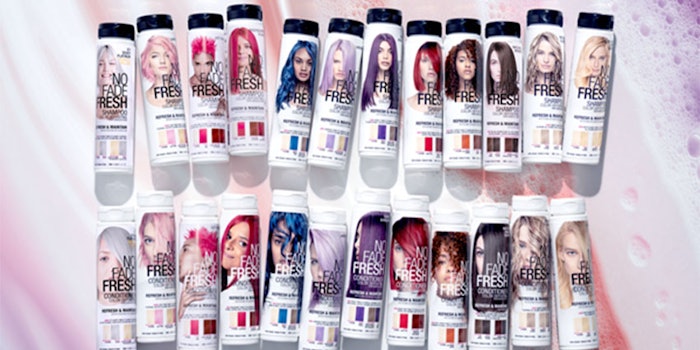 No Fade Fresh has launched three new colors in its line of color-depositing shampoos and conditioners. The new colors include Hot Pink, Blue Blast and Copper. 
Previously: Clariant's Cosmenyl 100 Preserves and Boosts Color
The line debuted in February 2020 and launched in CVS, Target and ShopRite stores. 
All of the No Fresh Fade products are 100% vegan, gluten-free, sulfate-free, PPD-free, paraben-free, mineral oil-free and PETA-Certified/cruelty-free.
No Fade Fresh debuted the new color-depositing shampoo and conditioner colors at an exclusive gifting suite event that hosted 100 select young actors, actresses, and influencers in Los Angeles the weekend of October 23. 
The colors are available online at nofadefresh.com and will be available in retailers as soon as Q4 2020 and Q1 2021.
CEO, Leland Hirsch, said: "We were amazed by the feedback that we received from some of Hollywood's most up-and-coming talent. To have entertainment industry professionals that are on the forefront of creating trends be so enthusiastic about our products is very exciting for our brand."
Hirsch continued: "Our success has been incredible. Our team created this category in the 1980s, and has always had great success with professional colorists, distributors, and salons, but our new venture into the food, drug, mass channel has proven that we are providing a product that consumers want, and it is an easy decision to expand our color palate to accommodate them."