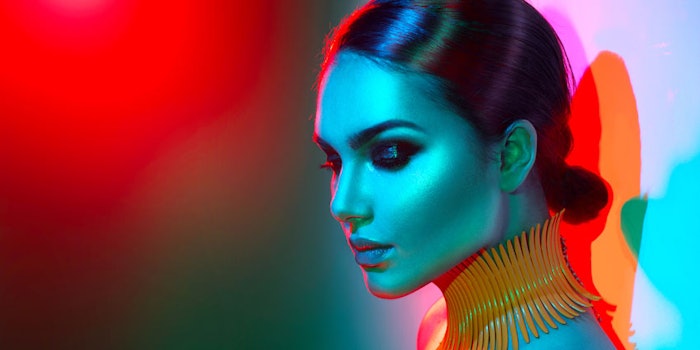 Connected consumers: You either know one or you are one.
Defined as "those who use connected devices such as Media tablets, e-readers, portable navigation devices, media players, imaging devices and mobile gaming devices, to interact with and consume digital content," these consumers are taking full advantage of the digital revolution currently sweeping the beauty industry, and it's up to beauty brands to engage and build brand loyalty with these influential shoppers.
At CEW's The Connected Consumer Conference, held on October 12, 2017, at Cipriani 42nd Street in New York City, successfully reaching the connected consumer through augmented reality, video and co-creation was the main topic of conversation. 
CEW president, Carlotta Jacobson, explained, "Today's consumer is highly influenced by digital media, ultimately changing the way they shop for beauty products. We felt it was important to support industry brands by providing them with the knowledge and tools they need to be successful in this digital world."
Panelists, including Frédéric Rozé, president & CEO, L'Oréal USA; Amy Eschliman, vice president and general manager of ecommerce, Sephora; Jessica Rotnicki, SVP North America ecommerce, The Estée Lauder Companies; Doreen Bloch, CEO and founder, Poshly; Nathalie Kristo, global brand general manager, NYX Professional Makeup; Karen Moon, co-founder and CEO, Trendalytics, shared insights on implementing digital marketing tools into brand strategies and how these tools have affected their own businesses.
Let's Get Personal
Rozé expressed the need for brands "to be there at every beauty moment in the right way" through the utilization of Snapchat, Pinterest and YouTube, and the need to utilize product personalization to deliver better beauty experiences beyond the products themselves. Eschliman urged attendees to build an emotional connection with consumers by placing them at the center of any platform (mobile app, ecommerce page, retails store, etc.) they are shopping from and to make the purchase journey from platform to platform as seamless as possible. 
Co-Creation Innovation Revelation 
During the "Co-Creation: Consumer Data, Analytics and Community" panel, it was revealed that 82% of 16,149 people surveyed like the idea of giving feedback during product development. What does this mean for brands? According to panelists Bloch, Kristo and Moon, brands can no longer tell consumers how to use a cosmetic product, the power now lies with the consumers to showcase how they're inspired by the products. 
Kristo shared that NYX often uses product searches on its website or mobile app as a sort of "research hub" to inspire product development for items that aren't in NYX's inventory, but that consumers are on the hunt for. 
How Digital Created a New Beauty Industry  
During The Connected Consumer, Global Cosmetic Industry sat down with Rotnicki and Jacobson to hear their insights on how digital has impacted beauty business and the ways consumers are engaging with brands' products. 
What are the most significant ways digital has changed consumers' purchasing habits and how they engage with products?
Jessica Rotnicki (JR): I think about this in three key areas, the first being convenience and immediacy. The customer today always has a store in her pocket. Her mobile phone is at the center of that have-it-now ability. When brands understand that this has resulted in [consumers] wanting second-day shipping, wanting to access favorite brands and wanting richer experiences on their own time, the consumers are able to get a richer, deeper experience from a product or brand. It brings her to a place that is more informed, more inspired. That's when mobile enters with this idea of consumers having more access to see it, swipe it, buy it.
The second area is a multidimensional inspiration. The consumer is very inspired by the multidisciplinary world of individuals, whether it be influencers, friends or brands. We have this ability to take in a multiview of how things impact us.
The third area is personalization. This is really about the customer screaming "More me!" She wants the opportunity to tailor things to her. We see the customer expecting a brand to already know something about her, such as making it easy for her to not have to log on each time, knowing her past purchases, product recommendations and personal references about skin and skin care needs.
Carlotta Jacobson (CJ): [Digital] created a whole new industry of independent brands that could, with very little financing, penetrate the market so quickly and gain an audience. You always thought that big companies could be only be affected by other big companies, but here there is a whole new breed of business that didn't know all the rules, didn't have experience of a big company and did things more instinctively. We have a group of about 500 indie brands and they're a very different group of people, but that's what changed the whole industry.
As digital continues to reshape the beauty space over the next few years, what will brands and retailers have to do to get ready?
CJ: You can't ignore quality and the consumer needs to be informed what the big brands can bring to her. Quality is sometimes very hard to get when talking about speed to market. Yes, it should be sped up, but no one is talking about why [product development], testing and research takes as long as it does. There is a lack of knowledge about why one still needs to look to big companies. I think small companies are producing very innovative ideas and products, but you see these shifts and it's very cyclical, it's like here is the new boy in town and that's what everyone is talking about.
JR: What's changed is the go-to-market strategy. We all think of our formula and our traditional approach to "launch big," but today brands are having to pivot quickly to understand how to adopt new ways to go to market. When launching a product, brands need buzz, awareness and traffic, but how do they maximize this in a crowded beauty space?
Digital has opened up new platforms for brands to test and reach new and existing consumers. The immersive experiences that a variety of brands are seeking are balancing activations and social media while reconsidering an old model and trying things anew. For example, brands are considering Snapchat as a way to reach someone versus email, they are understanding how content marketing and pop-up shops are catching consumers in a different way, they're looking at the impact artificial intelligence and VR, and they're focusing on new payment models to help conversion on mobile.
CJ: We're going to see that AI is going to change everything again. I think we will have true personalization. That is where [digital beauty] will go.
JR: One of the things we're really focusing on is service. Service is playing a renewed role across all touchpoints, it's no longer just at the beginning or just at the end. We've looked closely at how service can play a bigger part in translating those surprise moments from in-store to research at the beginning to post-purchase.Technology has brought [service] forward in a way that can be very meaningful.
CJ: Look at what Sephora is doing. I think that's the model of what companies and stores have to do because their purpose is changing. They have to give the consumer what they can't get and that is certain services.