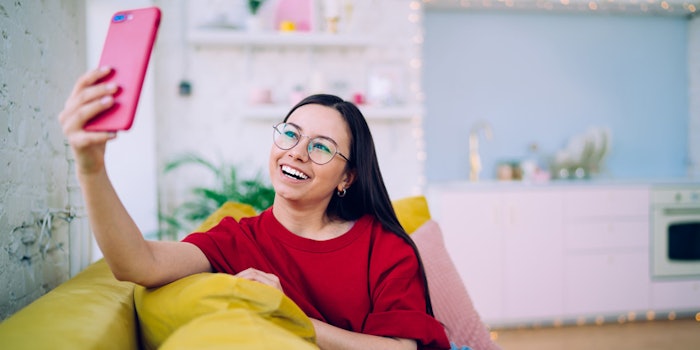 With our current landscape featuring the vestiges of COVID-19 and a consumer culture even more connected to social media and digital platforms because of it, the beauty industry must once again innovate to capitalize on changes in the marketplace. Are you ready? 
The TikTok Takeover
If you or someone in your household has been spending more time on Tik Tok since your home became the limits of your universe, you are not alone. The app experienced massive growth during Q1 2020 with an estimated 315 million global downloads since January, according to an analytics firm Sensor Tower.
Popular with Gen Z since its launch, the app is finding its way onto the devices of older consumers as well with significant growth among consumers 25-44 years old,according to Comscore data. This expanding universe of users is attracting a wide variety of beauty brands since its short-form video focus lends itself perfectly to the ultra-visual world of beauty. 
Category content on the app often includes tutorials, hacks, reviews and hashtag challenges that capitalize on the participatory and iterative experience that sets Tik Tok apart from other social media platforms.
Early adopters such as e.l.f. Cosmetics, Too Faced Cosmetics and NYX are now being joined by brands large and small. These brands are partnering with influencers who have grown their following in tandem with the growth of the app's user base and testing out new functionality such as the social gifting program, Small Gestures, which was rolled out in April 2020. 
This initiative is considered a first step in eventually facilitating transactions through the app. If you are not already experimenting on Tik Tok, it is time to reconsider and start exploring. 
AR Before You Buy
Can't head to the beauty counter to test that new shade? As many shoppers face this challenge with retail environments closed or less accessible, and the decline of testers, smart beauty brands are increasingly spotlighting the ability to digitally explore the colorful world of beauty with augmented reality tools. 
Prompted by the need to provide a sense of confidence for shoppers turning more often to e-commerce, MAC recently expanded its rollout of YouCam's AR try-on technology on certain country-specific brand sites. 
While hair salons are in the process of reopening across the United States, during lockdown virtual try-on tools drew new users to brands like Madison Reed and L'Oréal, who offered this option to dismayed consumers whose roots were showing on one too many Zoom calls. 
Over the past year, Pinterest and YouTube have both added AR makeup try-ons, and Facebook and Instagram have begun rolling out more AR-enabled features. In October 2019, several brands including Nars were able to test Instagram's Spark AR functionality to create a try-before-you-buy AR experience with a direct connection to Instagram Checkout.
AR may never fully replace the rich, discovery-driven experience of the in-store environment, but the time is now to consider how AR can help your brand inspire confidence, curiosity, and creativity in your consumers as they explore beauty in an online environment.
Keeping it Real
As lockdowns were implemented, the virus dominated newsfeeds and livelihoods were imperiled in the face of the global pandemic, many previously successful social media influencers struggled to connect with their followers. 
Tone-deaf posts and messages spurred anger and harsh criticism. Beauty brands with highly polished and aspirational online social content faced a similar backlash if they did not pivot to an empathic and sensitive approach to connecting with their fans and consumers. (A similar phenomenon has been witnessed during the rise of Black Lives Matter.)
Natural beauty brand Fresh's Instagram strategy has continued to reflect its exuberant and cheerful personality while still acknowledging the current experience of its followers. 
Its Bingo Beauty board, posted on March 30, 2020, served to entertain fans with a socially distant activity, and it followed that up with multiple, light-hearted posts, including its "This or That WFH beauty game" and its first-ever Youtube live stream event. 
Fresh's posts communicated in a warm and true-to-the-brand voice, remaining faithful to its beauty roots, but embracing new realities and behaviors.
As many consumers continue to face challenges in the months ahead, beauty brands will be wise to consider how to balance the inherently aspirational nature of beauty culture with a growing expectation to have their favorite brands reflect their real-life needs and desires.
About the author: