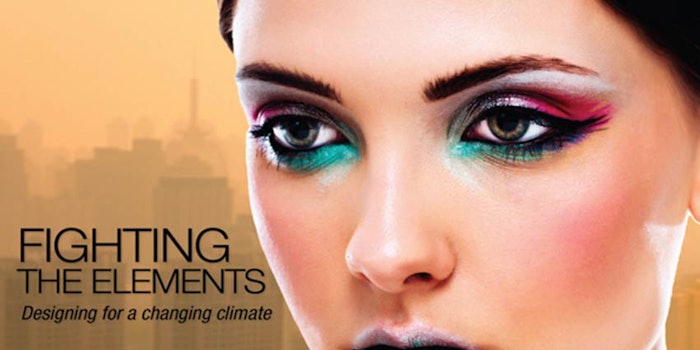 In December 2015, China did the unthinkable. It issued its first-ever pollution "red alert," placing limits on car use and manufacturing and business operations. The decree came in response to the intensity of pollutant particles in the air—so-called PM 2.5—which registered at an extremely unhealthy 291 micrograms per cubic meter.
Read the January 2016 edition of GCI Magazine here.
Further reading: Anti-pollution, Skin-care Actives
In many ways, China and its Asian neighbors have been the testing ground for consumer awareness of pollution, with protective masks a common sight on the streets. But make no mistake: This is not China's problem. It's everyone's problem.
Previously: Why Beauty Brands Are Pushing Anti-pollution Claims
Around the same time, the Paris climate conference took place, where, according to the European Union, "195 countries adopted the first-ever universal, legally binding global climate deal. The agreement sets out a global action plan to put the world on track to avoid dangerous climate change by limiting global warming to well below 2°C. The agreement is due to enter into force in 2020."
In-depth: Ingredient Helps Boost Skin With Antioxidants
Unilever CEO Paul Polman praised the move, saying, "Today's agreement demonstrates without question that it is possible for us to come together in common cause to address the greatest challenges we face, preventing tragedy for the many millions of people vulnerable to the effects of climate change and securing the economic prosperity of the world in the 21st century."
But is the agreement too little too late? Many climate experts think so. After all, 2015 was the hottest year on record, according to an analysis by Berkeley Earth. For the first time in recorded history, the Earth's temperature was more than 1.0°C (1.8°F) above the 1850-1900 average. In fact, last year was about 0.1°C (about 0.2°F) hotter than 2014.
Whatever the challenges, the beauty industry isn't waiting around for 2020 to roll around. That's why, in our January issue, we explore the impacts of pollution on consumers' lives, as well as the beauty innovations that are positioned to defend their skin and hair from the increasingly erratic elements.
While these breakthroughs represent just the tip of the melting iceberg, what emerges is a portrait of an industry ready to take on whatever the planet throws at it.