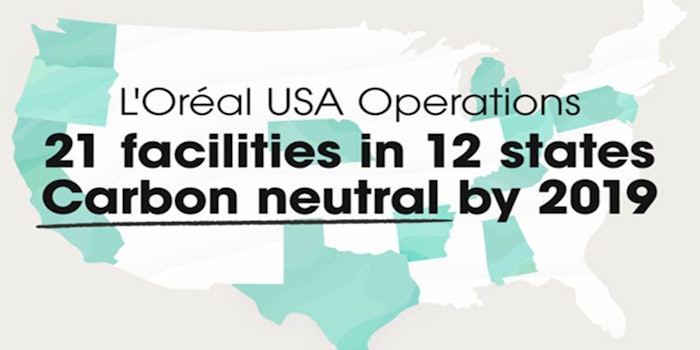 L'Oréal USA has announced its plans to achieve carbon neutrality by 2019 for all 21 of its manufacturing and distribution facilities.
Currently, the company has 17 renewable energy installations, including wind turbines in Texas and large on-site solar arrays in Arkansas and Kentucky. It has recently diversified its energy portfolio through the purchase of renewable natural gas (RNG) from a Kentucky processing facility.
Related: L'Oréal Shows Sustained Growth in 2017 Financials
After an 18-month research phase, the company identified a potential renewable energy production solution utilizing landfill gas (LFG) in Ashland, KY, capable of eliminating the carbon equivalent of 1.8 million gallons of gasoline a year.
Through the L'Oréal's Sharing Beauty with All global sustainability program, L'Oréal USA had already surpassed the company's 60% carbon emissions reduction goal in absolute terms in 2017.
Said president and CEO of L'Oréal USA Frédéric Rozé: "Achieving carbon neutrality for all of our Operations facilities furthers our commitment to being a sustainability leader in the United States."