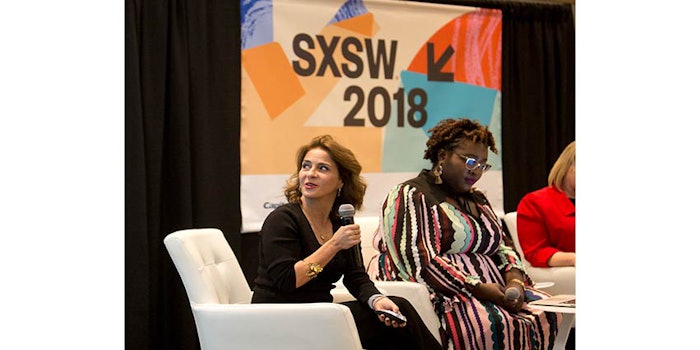 NaturaBrasil participated in a panel on "Beauty as a Force of Change" at the 2018 SXSW conference and festival in Austin, Texas.
The conversation, moderated by Refinery29 beauty writer Khalea Underwood, was centered around the concept that companies can at once have a positive impact on the economy, society, environment and culture while remaining profitable.
Related: [update] CEW Announces 2018 Beauty Award Finalists
Panelists included Andrea Alvares, NaturaBrasil vice president of marketing, innovation and sustainability; Kim Coupounas, director of B Lab, a non-profit that certifies B Corporations and promotes a global movement of people using the power of business as a force for good; and Ivoneide Do Vale, Natura beauty consultant and founder of the Tupinamba Institute, which offers microcredit and financial education through the Amazon's first community bank.
NaturaBrasil sustainably sources ingredients from the Amazon forest with the assistance of more than 4,300 families in 30 communities.  Through actions such as partnering with the communities to harvest the fruit of the murumuru tree—as opposed to logging them for timber—the company claims to have helped conserve 635,000 acres from deforestation. Murumuru butter is now common in hair care and moisturizing products.
The company received an Ethisphere award for being one of the "World's Most Ethical Companies."
"NaturaBrasil believes in the transformational power of the beauty industry, with the use of technology and network innovation to develop solutions that promote environmental and social change," said Alvares. "We encourage people to turn enterprise into an opportunity to create positive impact within four sectors: economic, social, environmental, and cultural."