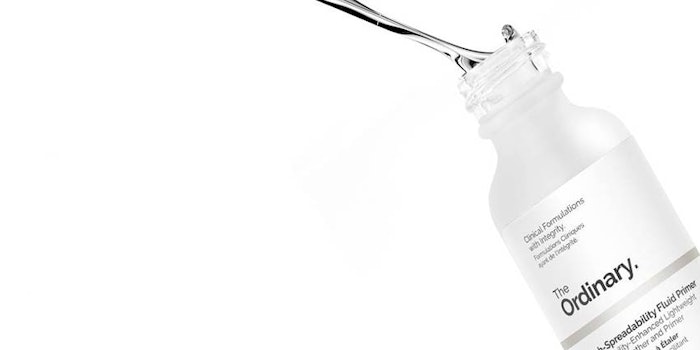 The Estée Lauder Companies has invested an undisclosed sum in Deciem, the Abnormal Beauty Company, owner of brands including NIOD, Hylamide, The Chemistry Brand, The Ordinary, Stemm, Fountain, HIF, White RX and Ab Crew.
Estée Lauder highlighted Deciem's consumer focus, millennial engagement, fast growth and vertical integration as its motivation for the move. Deciem runs its own lab, manufacturing, e-commerce sites, retail stores and marketing infrastructure, which allows it to be more nimble and responsive than conventional brands. The company's ethos has focused on delivering efficacy and value packaged in playful high-design.
Estée Lauder has increasingly focused on brands that can grow in today's age of direct-to-consumer and declining department store sales.
"In four short years, Brandon and Nicola have established, in Deciem, a powerful engine of innovation and growth," said Fabrizio Freda, president and CEO of The Estée Lauder Companies Inc. "Through its unique business model, Deciem has produced some of the most creative independent brands on the market, capturing the passion and trust of devoted fans around the world – and they are just getting started. We look forward to engaging with the team and supporting their global growth aspirations."
"It's nearly unthinkable for a conglomerate to embrace a disruptive mindset like that of Deciem – and yet we have felt like family from the very first day we met the loving team at The Estée Lauder Companies," said Brandon Truaxe, who leads the company alongside co-CEO Nicola Kilner. "I am so truly honored, humbled, excited and emotional to have the support of such a remarkable partner on our path to driving innovation in beauty."
"Deciem is a new kind of beauty company that is well-positioned to create a new generation of successful beauty brands," said William P. Lauder, executive chairman of The Estée Lauder Companies Inc. "Brandon is the quintessential founder and entrepreneur who, as Estée Lauder exemplified, is willing to take risks, push the boundaries of beauty, and fearlessly pursue a bold vision. We are excited by Deciem's great potential and the opportunity to be part of its future."