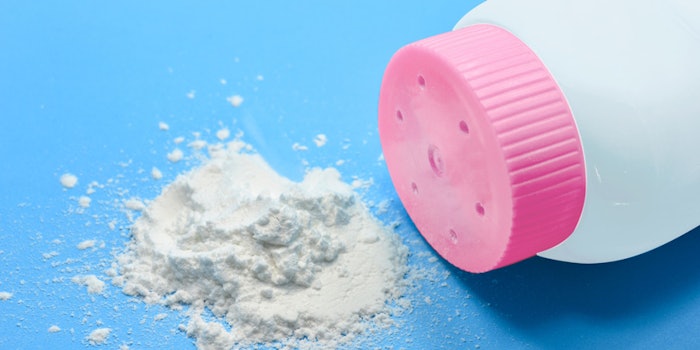 Earlier this week a jury in Los Angeles found Johnson & Johnson guilty of "failing to adequately warn users of the cancer risks of the talc in its baby powder."
According to a recent article from www.arstechnica.com, this is just one of "more than 5,000 cases to come." 
While there is no clear link between talcum powder and ovarian cancer, J&J is still allegedly responsible for paying Eva Echeverria $70 million in compensatory damages and $347 million in punitive damages. The company will repeal this ruling.
Johnson & Johnson Responds
Regarding the case, the following statement was issued from Carol Goodrich, spokesperson for Johnson & Johnson Consumer Inc.:
"Ovarian cancer is a devastating diagnosis and we deeply sympathize with the women and families impacted by this disease. We will appeal to today's verdict because we are guided by the science, which supports the safety of Johnson's Baby Powder.
"In April, the National Cancer Institute's Physician Data Query Editorial Board wrote, 'The weight of evidence does not support an association between perineal talc exposure and an increased risk of ovarian cancer.' We are preparing for additional trials in the U.S. and we will continue to defend the safety of Johnson's Baby Powder."
Literature Findings
In relation, one study in the European Journal for Cancer Prevention examined talc in more depth since, like asbestos, it is a silicate and has been implicated in cancer risk. Also, studies over the past decades have associated perineal talc powders with ovarian cancer and this data has been interpreted by some as supporting a causal role. 
However, the present review showed that while talc and asbestos share chemical and morphological features, talc does not possess asbestos-like carcinogenic properties. Furthermore, the consistency with which the previous perineal talc-dusting studies were conducted raises important concerns over the validity of those findings.
As the authors state, it is unknown whether external talc dust enters the female reproductive tract. However, measures of internal talc exposure such as via talc-dusted diaphragms and latex condoms showed no relationship with ovarian cancer risk. In addition, the therapeutic use of high-dose cosmetic grade talc for pleurodesis was not shown to cause cancer in patients receiving these treatment modalities.
The present study found talc is not genotoxic; and mechanistic, pathological and animal model studies found no evidence for any carcinogenic effect. Overall, the study showed no indications that cosmetic talc causes ovarian cancer. 
American Cancer Society Weighs In
Comments on talc by the American Cancer Society (ACS) were less convincing. 
According to ACS, the International Agency for Research on Cancer (IARC)—part of the World Health Organization (WHO)—classifies two types of talc: those that contain asbestos (and are generally no longer used in cosmetics) and those those don't contain asbestos.
Talc that contains asbestos is considered "carcinogenic to humans." And, due to the lack of data from human studies and limited data from animal studies, IARC classifies inhaled talc not containing asbestos as "not classifiable as to carcinogenicity in humans." However, also based on limited evidence from human studies, IARC classifies the perineal (genital) use of talc-based body powder as "possibly carcinogenic to humans."
The ACS further notes that the U.S. National Toxicology Program (NTP), which includes voices of the National Institutes of Health (NIH), the Centers for Disease Control and Prevention (CDC), and the U.S. Food and Drug Administration (FDA), has not fully reviewed talc (with or without asbestos) as a possible carcinogen.
Cosmetics & Toiletries Insight
According to Cosmetics & Toiletries sources, evidence presented during the trial suggests the use of talc in the perinal area over a long period of time could increase the occurrence of ovarian cancer by 30–35%; although the route(s) of exposure yielding these results were not provided. 
It seems the jury was swayed by the precautionary principle; i.e., that any risk, regardless of the chance for its occurrence, must be avoided ... and where it can't, that consumers receive fair warning. It's safe to say this case isn't closed and that studies will continue.
Update: This ruling was later reversed, with the judge citing jury misconduct, insufficient evidence on both sides and excessive damages in the original ruling. More here.