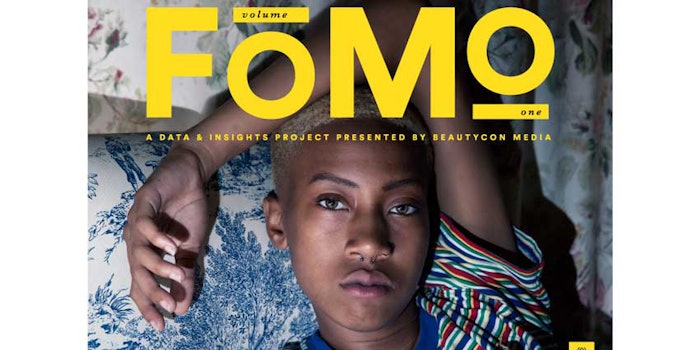 Beautycon media, a company aggregating fans, creators and influencers with beauty and lifestyle brands by way of festivals and media platforms, has released its first volume of "FOMO," a study focused on how Millennial and Generation Z consumers use beauty and social media on a daily basis. 
Beautycon co-founder and CEO, Moj Mahdara, explained, "Although we're interfacing with one of the most tech-savvy groups of American consumers in our history, it's interesting to witness how they are also having a profound human impact on the rest of us. Words that once defined cultural outliers or 'unconventional' people—for example, mixed race, asexual, or different-abled—the majority of Pivotals we surveyed apply to themselves with great pride. They can also be more than one thing, which in turn impacts what beauty products they buy, how they use it, and how they inform others about what they've embraced."
Pivotals, according to the company, combine the Millennials and Generation Zers. Members of this demographic range from age 13-34. The company feels "Pivotals are collectively pivoting the beauty industry away from antiquated ideals about attractiveness that drove marketing of the past—and forcing companies to re-think their approaches surrounding beauty, as well as to diversify their product offerings."
Pivotals reportedly have a knack for combining beauty products with digital technology, which allows them to place conventional and traditional beauty standards on the sidelines.
During the FOMO (fear of mission out) report, participants were surveyed at the 2017 Beautycon festivals in Los Angeles and New York City. Other participants of the study included trendsetters in Austin, Brooklyn and Portland as well as fans and followers across social media. In the end, the total number of those surveyed reached 1,000.
Here's what they had to say...
79% of Pivotals agreed with the statement, "The way I present myself is fundamental to who I am."
81% expressed that beauty was not just about products but also about cultural expression.
Rather than find cultural touchstones in celebrities as past generations did, 73% were more likely to turn to people more like them: the influencers on social media.
82% agreed that their physical and digital identities were one and the same.
Mahara added, "The FOMO report not only underscores the seismic shift in the way beauty products are perceived. Rather than blending in, Pivotals want to use beauty products as a way of breaking out of conformity and achieving meaningful connection with others. Social media beauty influencers have blossomed from a small group of young people putting how-to videos and images on social media platforms such as YouTube, Instagram and Snapchat, into a full-on community, some would even say, a movement, which embraces diversity and timely cultural issues."
Don't suffer from FOMO, download a sample of the report here: www.fomo.beautycon.com