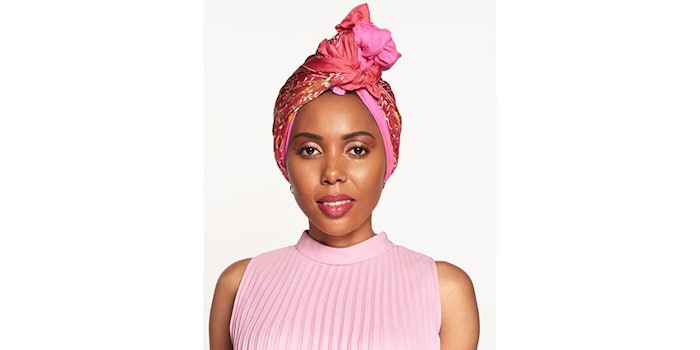 L'Oréal Paris has announced its newest international spokesperson: Jaha Dukureh. A leader in the global movement to end female genital mutilation (FGM) and child marriage, Dukureh has succeeded in changing laws. She will make her debut with L'Oréal Paris starring in the campaign for Color Riche Shine in 2020.
Related: L'Oreal Professionnel Announces Alexa Chung As 2018 Spokesperson
She was named a UN Goodwill Ambassador for Africa and nominated for the Nobel Peace Prize–all before turning 30. Dukureh is the first L'Oréal Paris Woman of Worth honoree to be named a global brand ambassador.
Related: Amber Heard Named L'Oréal Spokesperson
Empowering women to have power over their own lives, her signing marks a powerful new direction to share the signature L'Oréal Paris message–believing in your self-worth is a power.
Survivor
Born in Gambia, Dukureh underwent FGM, the cutting of the female genital exterior, when she was a little more than one week old. At 15, she was forced into a marriage with a far older man in the United States. At 17, she managed to break off the marriage.
She later went on to complete a bachelor and master's degree in nonprofit management from the University of Central Florida. Hailed "the woman who said no to FGM," Dukureh has made it her life's work to challenge the belief systems that perpetuate the FGM and child marriage she suffered as a girl.
Woman of Worth
In 2013, at 24-years-old, Dukureh created "Safe Hands for Girls," a nonprofit organization to end FGM and child marriage and to provide a safe space for survivors. In 2015, L'Oréal Paris recognized her as a Woman of Worth, awarding her organization funding to grow its impact.
Today, "Safe Hands for Girls" has prevented an estimated one million girls and women from undergoing FGM, including her own sister, after Dukureh convinced her father against continuing the practice. "Safe Hands for Girls" also campaigns to prevent some 15 million marriages involving children.
Global Impact
Dukureh's one-woman dedication has had the power to change law. Just days after she met with government officials in Gambia, her home country, the then-president outlawed FGM.
Her tireless advocacy has been highly recognized: she was named one of Time's 100 most influential in 2016. She was next nominated for the Nobel Peace Prize in 2018 and won the Eleanor Roosevelt Val-Kill Medal "honoring individuals whose far-reaching influence has made our world a better place" that same year. And, she was appointed Regional UN Women Ambassador for Africa, using the platform to take the fight against FGM and child marriage global.
A 2017 feature documentary, Jaha's Promise, showcased the respectful sensitivity with which she succeeds in transforming mindsets and upturning cultural norms that have perpetuated these harmful traditions for generations.
"We are so delighted to welcome Jaha Dukureh to the L'Oréal Paris family as a global spokesperson," Delphine Viguier-Hovasse, global brand president L'Oréal Paris, said. "Honoree for the Women of Worth Award and nominated for a Nobel Peace Prize, [Dukureh's] fearless activism has changed the lives of more than a million girls. Her strength has emboldened so many to speak up for the right to their own destiny. She's a powerful voice for the personal empowerment L'Oréal Paris promotes for all women."
"To join L'Oréal Paris is also the L'Oréal Paris family joining me in my fight to empower women to defend their rights," Dukureh said. "Signing a contract with the N°1 beauty brand supports my conviction–FGM does not define me, nor any woman, even as we live with its impacts. To represent L'Oréal Paris is a way to raise my voice for women, and the pain they have suffered. I could not be prouder to share L'Oréal Paris' message: believe in yourself, your voice matters. Yes, you are worth it."