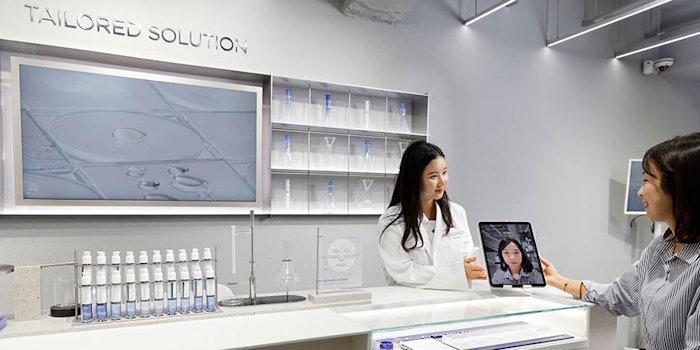 Amorepacific has acquired "a significant minority share" of personalized skin care brand Rationale Group, securing an advisory role and voting rights on its board. The move supports Amorepacific's growing focus on personalization. Rationale has recorded double-digit growth in its average annual sales over the past five years in Australia, according to Amorepacific.
In-depth: personalization & skin care.
The brand offers its Essential Six Collections, featuring formulations that deliver environmental protection by day and repair at night. All come with a personalized regimen.
Rationale is sold in 15 flagship shops, exclusively online at rationale.com, and via a network of approximately 50 medical agencies including dermatologists and plastic surgeons.
Rationale will expand to South Korea, the United Kingdom, the United States, Hong Kong and Singapore by 2025, per a release. Amorepacific will provide Rationale help in scaling. The two companies will also explore joint R&D.
Amorepacific will benefit from access to an Australian production base and retail network, which can support expansion in Oceania.
"With a truly shared innovation vision, Rationale and Amorepacific will take personalized skin care solutions to a new level," said said Saehong Ahn, Amorepacific president. "Amorepacific will continue to look into M&A and partnerships with promising companies and secure opportunities for future growth."
"There is an intuitive alignment between Rationale and Amorepacific, particularly with regard to their world-class innovation and simultaneous commitment to R&D," said Richard Parker, Rationale founder and director of research. "Rationale is acknowledged worldwide as the environmental skin care authority and leader in epigenetic research, and we are thrilled to be empowered to expand this vital work with Amorepacific."
On-demand Printable Masks
Furthering its personalization push, Amorepacific has unveiled its Lab Tailored 3D Mask from IOPE, which was a 2020 CES Innovation Award honoree. The Lab Tailored 3D Mask is a 3D-printed made-to-measure hydrogel mask designed to fit each person's individual facial dimensions and skin conditions.
Notably, Amorepacific's personalized services adhere to the Korean government's newly created legal framework that guides customized cosmetic sales, issued on March 14th. Per a press release:
The law defines personalized cosmetics as products made on the spot by mixing ingredients required for individual customers based on skin analysis and counseling and then dividing the mix into small quantities. It allows customers to buy as much of a product made for their skin tone and personal preferences as they want.
Masks are printed in-store and can be paired with treatments featuring six active ingredients targeted to various parts of the face, including forehead, nose, cheeks, and the areas around the eyes and mouth. Twenty versions of the serum are available with four base formulas and five solutions. The Lab Tailored 3D Masks and Serums can be purchased separately.
The service is now available exclusively at IOPE Lab, the brand's recently re-opened flagship store in Seoul's downtown Myeongdong shopping district. IOPE LAB offers consumers high-end beauty solutions that are personalized by carefully measuring skin conditions.
IOPE LAB features programs that tap genetic analysis for skin and bespoke services together with IOPE's research expertise. These include:
Skin Future Solution Program, which uses genetic analysis for skin
Tailored Solution Program, which offers Lab Tailored 3D Masks and Serums
Skin Future Solution Program, which analyzes the customer's genes and measures his or her skin conditions precisely
IOPE's Lab Geno Index, a genetic analysis kit co-developed with Theragen Bio, analyzes 26 genes, including 13 types of skin genes and 13 types of health-related genes, from different angles and blends the findings of the genetic testing with seven common skin concerns to provide optimized skin care solutions.
"We are actively fusing a range of advanced technologies with Amorepacific's extensive expertise in beauty R&D to create new technologies that can truly make a difference for our customers, while at the same time introducing new digital methods and skin solutions that help us create groundbreaking customized beauty solutions," said Wonseok Aiden Park, head of Amorepacific basic research and innovation division. "For example, IOPE's Lab Tailored 3D Mask and the genetic analysis for skin that we've demonstrated is the fruit of such efforts and we will continue to push forward to produce innovative research results and take the lead in the burgeoning personalized cosmetics market."