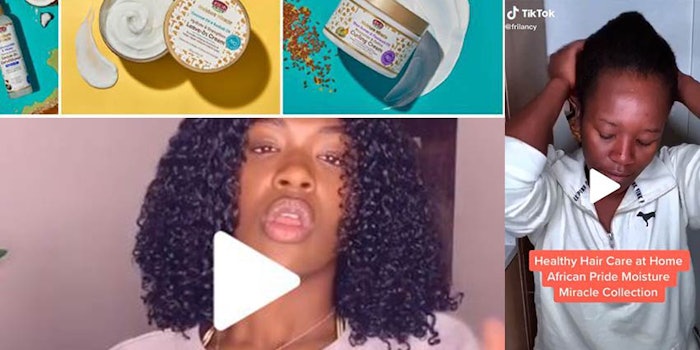 COVID-19 is rewriting the rules of beauty marketing. African Pride has leveraged the pandemic's go-to social media hub, Tik Tok, for its latest campaign, celebrating women with natural, coily, textured hair.
The brand's campaign centered on its Moisture Miracle Collection which is "helping them reach their healthiest hair goals at home," according to the brand.
Several videos can be viewed here, here and here.
We asked Alexia Amerson, senior brand manager, African Pride, about the brand's process for developing the campaign. What follows are her insights.
Global Cosmetic Industry: What were the goals of your latest campaign?
Alexia Amerson: Navigating and adjusting to new marketing norms in the wake of the COVID-19 Pandemic has taught my team and I a lot. But mostly, it has helped us to truly understand the importance of staying prepared and spotting immediate trends and opportunities in this industry.
Prior to the pandemic, my team and I were noticing a lot of makeup and cosmetics brands participating, engaging, and interacting on Tik Tok. But, it wasn't until the pandemic that we understood it to be a golden opportunity while many consumers were social distancing at home. 
As Instagram and Facebook became more saturated with ads, stagnant content, and experiencing a decline in downloads, Tik Tok downloads were skyrocketing. It wasn't just a teen app anymore. Content creators and influencers alike, from all ages and backgrounds, were joining the platform in droves.
We also noticed an exceptional number of users joining who were rocking their natural coils and curls. Collectively, we made the decision to join to ensure coily and curly hair had the representation it deserved on the platform. 
Our latest Tik Tok campaign goals were simple:
Garner more awareness for our Moisture Miracle collection.
Promote online shopping options for our consumers.
Establish a presence for coily and curly hair on the platform. 
Global Cosmetic Industry:

How do you go about selecting your influencer partners? 
Alexia Amerson: We wanted to ensure that we partnered with women who could champion our mission to elevate, enrich, and empower other women with coily and curly hair. By understanding the communication we wanted to convey, we were able to curate content that showed these women having fun while self-caring during the quarantine.
Each of our influencer partners were able to let their unique styles and personalities shine through which has worked well with our consumers. Our consumers appreciate seeing their lives, realities, and styles reflected in the media, which is what we always strive to keep top of mind. 
Global Cosmetic Industry:

What are the unique considerations for developing programs for Tik Tok vs Instagram and other popular social feeds? 
Alexia Amerson:
Understand your audience from their pain points to their wants and desires.
Partner with influencers who convey the same tone of voice as the brand your consumers fell in love with.
Remain agile and constantly train yourself to look for opportunity gaps and trends. · Have fun and remain authentic to your brand's core.
Global Cosmetic Industry:

What result have you seen from the latest program (engagement, traffic or any other metrics)? 
Alexia Amerson: The campaign has seen huge success, even without promoting the content. Organically, the content and messaging has worked well to increase our core audience, engagement, site traffic, and sales across platforms.