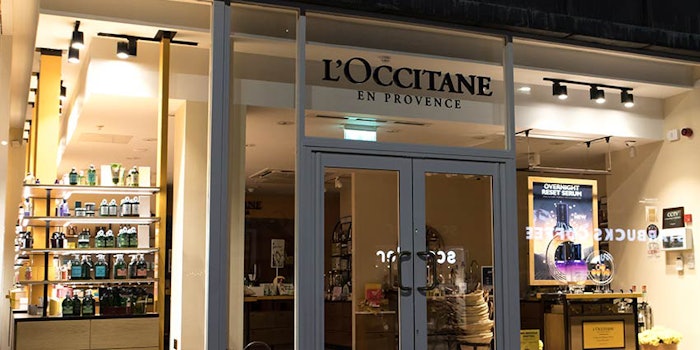 Despite the steep declines of Q4 performance related to COVID-19, L'Occitane has reported full-year fiscal 2020 net sales of €1,644.1 million, a year-over-year gain of 15.2% compared to 2019, which totaled €1,426.9 million. The results represent an update on previously annouced preliminaries. Online sales boomed 41.8% in part as a result of the pandemic.
Operating profit for the full year rose 24.2% to €187.3 million, while operating margin gained 0.8 points to 11.4.
Further reading: L'Occitane Joins the Responsible Beauty Initiative.
The fourth quarter was the toughest for the company. L'Occitane en Provence was posting 6.0% growth through the first three quarters of fiscal 2020, but a COVID-19-struck Q4 pushed growth down to 1.7%. Sales in Q4 alone dropped 12.1% year-over-year.
Elemis achieved €165.8 million in sales in fiscal 2020, accounting for 10.1% of total sales. Performance was strongest in the United Kingdom and the United States.
LimeLife sales declined 2.7% at constant rates for 2020.
The company's other brands grew 1.0% at constant rates for the year, with Erborian posting double-digit growth for the period.
The U.K. and U.S. markets grew 163.0% and 22.3%, respectively, for full-year 2020, primarily driven by Elemis.
China sales were driven by T-mall, JD.com and WeChat and achieved 10.5% net sales growth at constant rates.
"Despite the tremendous challenges posed by COVID-19, our teams have responded with great resilience and solidarity, and managed to maintain sales growth and improve operating profitability for the year," said Reinold Geiger, chairman and CEO of L'Occitane. "In the short-term, we will continue to take steps to better control our cost structure amid the uncertain environment. This will leave us well-placed to emerge even stronger following the pandemic. We firmly believe the inherent strength of our brands, products and web-based activities will enable us to safeguard our profitability while continuing to deliver value to our shareholders."