Beauty queen and fashion designer Joy Pfister, CEO of Kristy J, LLC, discussed with
GCI
magazine the importance of wearing sunscreen and her recent
SunEssence
product launch.
GCI: What inspired you to start your company, Kristy J, to produce UV protective swim and active wear, and then eventually branch into sunscreen production?
Joy Pfister:
About five years ago I received my first sun-protective outfit for my newborn at a baby shower. I really had no idea that the product even existed. After seeing how much my children loved the outfits my mother and I started a small company called The Shady Sun (
www.shadysun.com
) where people could find the products. As customers started calling, I began speaking with more and more women that were affected by skin cancer, Lupus and other skin disorders that make them sensitive to the sun. Although we sold a few pieces of adult clothing that we imported from Canada and Australia, they were more or less unflattering and somewhat drab. I found that there was a real need for more fashionable women's sun-protective clothing that would make a woman feel good when wearing it. Kristy J (
www.kristyjuv.com
) was developed by my mother and I after several months of research. One day I was talking on the phone to a woman in northern Virginia that was telling me that she was a skin cancer survivor and that she was so happy to have found our new Kristy J line, because it was the first fashionable line she had ever found. When I got off the phone with her, it really hit me that this woman would really need some type of sunscreen protection all the time. After searching for the next two days on the Internet for a very feminine, aromatherapy-based daily wear sunscreen, (that I could not find), SunEssence was born.
GCI: So what was the basic process involved in formulating your new SunEssence product line, from concept to the shelf?
Joy Pfister:
Conceptually, I wanted SunEssence to be a very upscale, fashion-savvy sunscreen that would make a woman feel very feminine while out in the sun. I wanted it to be soothing to the skin, smell great—unlike sunscreen—but be strong enough to act like a serious sunscreen. I spent months trying to find a lab to actually put together a sunscreen line with the multiple scents I needed. But persistence paid off, and I found a company to help me. After getting our first sample in, I knew that this was going to be a very great thing! SunEssence has really grown over the past year and is really considered its own brand now with its very own Web site and everything (
www.sunessencesunscreen.com
).
GCI: Who designed the SunEssence tubes, including the logos and drawings?
Joy Pfister:
I met this gem of a women at a neighborhood party. Elizabeth of Tango Creative helped me from concept to logos and really was a saving grace for us! She is a genius, and we worked so well together. She totally understood what I was trying to do with the sunscreens as far as marketing and our target consumers. She put several concepts together, and she presented them to myself and my partners—it's a family affair—my mother, father and husband. We decided as a group what direction we would go. The color scheme we chose is simple, yet feminine, and we wanted it to show well on a store shelf at any boutique, department store or specialty shop with elegance, regality and a hint of something organic.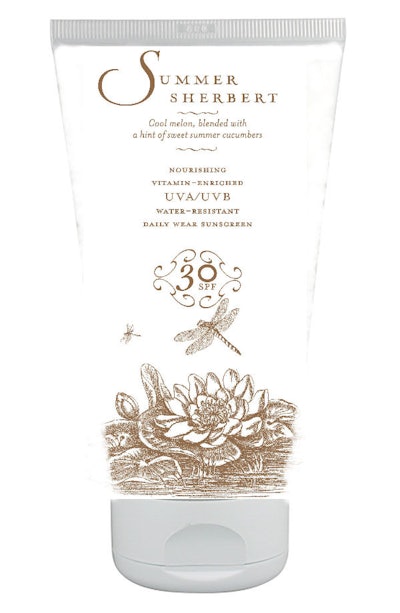 GCI: What are some ways Kristy J is paving the way for women to remain fashionable while protecting their skin with dermatologist-recommended resort and beach wear?
Joy Pfister:
The American Melanoma Foundation, which we work very closely with, recommends sun protective clothing for extended periods outdoors. We have taken Kristy J and picked a plethora of wonderful color schemes, have altered the line to fit on real women, and we are truly the first company to offer women a very fashionable way to go out in the sun and look fantastic with semi-fitted swim and active wear, longer length rashguard tops, that do double duty as a swim top or active wear top, capri pants that have a wide comfortable waist band for a beach cover up or a boating/cruise outfit, and I could go on! No more wearing your husband's frumpy oversized shirt! My companies are geared towards fashionable SPF.
GCI: How do your products fill a need in the industry?
Joy Pfister:
One in five Americans will be diagnosed with skin cancer this year. Statistics show that 90% all of skin cancers are caused by the sun. Dermatologists are recommending daily sunscreen, hats and sun protective clothing. Thus, the need continues to grow for preventable measures to be taken against the sun, and with those statistics growing, our products are increasingly in demand.
GCI: How is SunEssence the "Hollywood" of all sunscreens?
Joy Pfister:
We tote our SunEssence as the "Hollywood" of sunscreens, because one can feel pampered [with] the luxuriousness as if they were a movie star. It comes in a sheik tube that exudes femininity and smells of a bath and body lotion that one covets daily. Essentially, it is a feminine sunscreen, because right now the scents are all very feminine. An aphrodisiac is something that entices an effect; so, in our Tropical Honey Sunscreen, for example, you will smell the wonderful fresh aroma of oatmeal, with nuances of creamy French vanilla, milk and a base note of nutty almond. It may entice a happy country day memory or thought or make you feel refreshed and new in a naturally organic and earthy way.
GCI: How closely do you work with dermatologists to create your SunEssence products?
Joy Pfister:
The American Melanoma Foundation and Dr. Mona Mofid helped us so much. She assisted us with setting up a test with several dermatologist offices around the country. We were able to send out the entire line to each of the offices where the office staff and dermatologists were able to test the sunscreens, and [they] were surveyed with multiple questions about our sunscreens. When we got the surveys back, we were able to ultimately make improvements to the sunscreens.
GCI: How influential has your mother, Joyce, been in your professional life?
Joy Pfister:
She is the wind beneath my wings, my business partner [and] my best friend. She says she is always amazed at what I do and what courage I have to professionally drive forward, but it is her that has always given me the strength that I need, as she is the little angel on my shoulder telling me that I can do it!
GCI: You donate a portion of your sales back to the American Melanoma Foundation. Why is this important to you?
Joy Pfister:
It was very important to me, when we began several years ago, to find an organization that we could work hand-in-hand with. I wanted our products to have integrity and value. I did not feel like they would have this unless I had an organization like the AMF to turn to, and I was able to donate a portion of the sales back to assist with programs and research. I want the women that buy our products to know that they have directly contributed to research and programs for skin cancer. Personally, I have had moles removed in the past few years that turned out to be benign. Because I knew my ABCDs of skin cancer, and I saw changes in these moles, I was able to get to a dermatologist for early interventions.
GCI: What strides have and your company made to battle skin cancer and support its education?
Joy Pfister:
I have been featured in several newspapers and magazines, Comcast television news with Janet Zappala, on the Art Fennel Reports, WNBC Knoxville Style Show, Health Radio and I am also competing in February [2008] for the title of Mrs. Virginia International to help bring even more spotlight to my cause. I have spoken on the ABCDs of skin cancer to editors around the globe this fall and into our '08 season and how important early detection is. If you don't know, then I am hoping to make a difference in your life right now. "
A
" stands for asymmetry—one half of the mole doesn't match the other half. Melanomas tend to be irregular. "
B
" stands for border irregularity. Benign (good) moles have nice smooth edges, whereas melanoma tend to have irregular edges. "
C
" stands for color. If the color is intensely black, possibly with a bluish tint, or the color is uneven across the mole, this is suspicious of a melanoma. "
D
" stand for diameter. If the mole is greater than 6 mm (about the size of a pea), than there is a greater chance that it is malignant. If you have a suspicious mole, contact your dermatologist.
GCI: What have been the milestones thus far in your career?
Joy Pfister:
Actually getting the Kristy J line in my warehouse (after two years of concepts and prototypes), having it tested by the Australian Radiation Government to ensure its SPF ratings, partnering with the American Melanoma Foundation [and] launching SunEssence on
www.drugstore.com
."
GCI: How do you believe the sunscreen and skin care industry is changing or has changed, and what news or trends do you think will be important for professionals to pay attention to this year?
Joy Pfister:
I think the industry is changing and offering more luxurious and antiaging formulations in sunscreens loaded with more natural ingredients such as green tea and botanicals. We have taken these steps with SunEssence. I think it is important for professionals in the industry to recognize that society is going "green," and using all naturals and organics within products is becoming the wave of the future.
GCI: Do you have a background in fashion design, or what is your educational history?
Joy Pfister:
I am a licensed physical therapist assistant and have six health and fitness certifications. I have held the state title of Mrs. Virginia-America and competed on national television at the Mrs. America pageant in '04. In 2006, I won a national title through the Beauties of America system. I have wanted to really spotlight my dedication to skin cancer prevention and education, and I felt that taking my love of beauty pageants and paring it with my speaking engagements would really help bring the spotlight to skin cancer.
GCI: Who designs and stitches each Kristy J outfit prototype?
Joy Pfister:
My mother and I co-design and put together each prototype. For 2009, we are looking into using a wonderful company out of California to have the clothing mass produced.
GCI: What's one of your most popular Kristy J active wear outfits?
Joy Pfister:
The Majestic Mountain Color Collection is really one of the favorites. Really all of the pieces we offer across the board are selling very well. I would have to say the short sleeve and long sleeve rashguards with the shorts are probably the most popular.
GCI: Where do you see your SunEssence line heading in 2009?
Joy Pfister:
For Kristy J, we are coming out with a line of daily wear collared shirts and Bermuda style shorts and stylish hats that are SPF, and of course, fashionable. For SunEssence, I am hoping to continue to reach globally. This is a product that can really be enjoyed by all females, from 'tweens to adults. No doubt I would like to add to our lip topping flavors, maybe even an SPF lip topping with pigment, and continue to add to our SunEssence line with organic facial SPFs and even scalp SPFs.