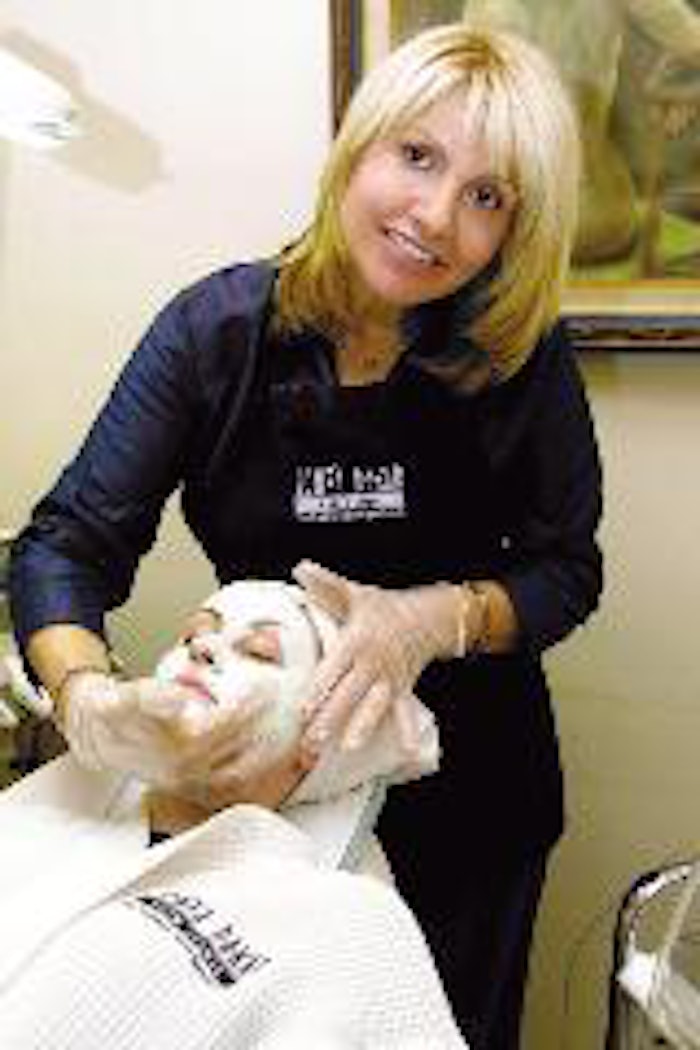 Sonya Dakar
, clinical esthetician and the founder of Sonya Dakar Skin Care products and the Sonya Dakar Skin Clinic, is known the nationwide for her family-run skin care business.
GCI
magazine spoke with Dakar about her career as a working mother and her new "fitness facial" BODY product line.
GCI: What first inspired you to found your own skin care brand in 1971 and later, in 1984, the Sonya Dakar Skin Clinic?
Sonya Dakar: When I started treating skin in 1971, there were no products available to achieve the results I was looking to give my clients. All skin care products on the markets were basic, highly-scented and—in my opinion—out-dated. I offered "fitness facials," not foofy ones. They work to get your skin in shape, like a workout does for your body. And so with the help of my husband, I started to develop products in our kitchen that would address the skin concerns of my clients. These products worked to address issues that ranged from acne to aging, sun damage, irritation and everything in between. I was a mother of four at the time, as well, so work was always part-time for me. I wanted to be a hands-on mother, so I worked from a guest house my husband converted into a two-room clinic for me. In 1984, when my children were in college and high school, I decided that it was time for me to venture out and begin to work full time. This is when I opened my first Sonya Dakar Skin Clinic in L.A.
GCI: How has your background as a clinical esthetician helped you during your career?
Sonya Dakar: I trained in Israel where estheticians are professionals who deliver similar results to doctors. This has helped, because I take the same approach in my business in the U.S. It snowballed from there; I was the first person to give clients what they wanted—results!
GCI: How is your company a family business?
Sonya Dakar: My husband and I and so proud to have all of our four children involved in the business. My husband's in the head of R&D. My eldest son, Yigal Dakar, is vice president of sales and marketing. My son, Nate Dakar, is president of our skin care company. My daughter, Mimi, is vice president of public relations, and my daughter Donna is vice president of education. We always joke that I am now waiting for my grandchildren to get a little older and join the team.
GCI: What have been major milestones of achievement during your career?

Sonya Dakar: Wow, looking back I have to say… working with my entire family—that is my number one. Since I never asked my children to join the business, they have each done it on their own. Professionally, I have had a lot of wonderful press and always, the ones that stand out in my head are Skin Inc. magazine spa mentor awards, the Allure's Editor's Choice Award, Day Spa's Editor's Choice Award and wonderful spreads and profiles in various publications. I am not yet the huge brand that advertises, and so all these awards and press mean the world to me. I started at a very humble place, and am still very grateful for who I am and excited for where I will go.
GCI: What have been some of the challenges you have overcome professionally?
Sonya Dakar: I think one of my greatest challenges is always time management. There is so much I want to develop and achieve. Sometimes I need to remember that it is one step at a time.
GCI: What antiaging trends are on the rise among consumers, worldwide? For example, why does there seem to be a higher demand for antiaging cosmeceuticals now more than ever?

Sonya Dakar: Alternatives to BOTOX and other injectibles; I can't help but notice how many people want to look young but natural at the same time. Also] spas are so big now, and consumers want to take that experience home with them. This is evident in the sales of masks and at-home treatments, soaks, body polishes… They want to have the spa experience every day, not just when they treat themselves to an actual vacation or spa a few times a year.
GCI: What are some ways your products fill a need in the skin care industry?

Sonya Dakar: I still work with clients 10-14 hours a day. I do it because I love to heal people and really enjoy time spent with my clients, but this also puts me ahead of the trend. I see what is going on first-hand with consumers today. And so when I go to develop product, I do so from a needs basis. I see what is out there, what is going on, and then I work on developing products that can offer solutions. A perfect example of that is when I launched a product called Recovery. This is a gel that is ideal for post-laser, peel or dermabrasion. I noticed that there was nothing on the market that could help people heal from medical procedures. All that was being offered was greasy, over-the-counter antibiotic ointments that would cause my clients breakouts. The water-based Recovery was an instant success that really filled a need in the industry.
GCI: How does your new "fitness facial" BODY product line work?
Sonya Dakar: I always told my clients that I treat the skin and not the face. Skin is one completer organ. Why treat your face different, or in most cases better, than the rest of you? Since my face care philosophy is "facial fitness," the body care is total skin fitness. I developed my body care products with the same high-end skin care grade ingredients that go into my skin care products. The cost is very big to manufacture, but well worth it. I would not put my name on the bottle otherwise.
GCI: How do you use many of these products in spa treatments?
Sonya Dakar: We have developed total skin fitness treatments. They are similar to facial treatments with analysis and exfoliation; I have even developed a professional-only Skin Fitness Peel that can address any age control, discoloration or any other skin concerns. It is a true treatment and not just a beautiful and relaxing spa experience.
GCI: What cosmetic or personal care product can't you personally live without?
Sonya Dakar: My Omega 3 Repair Complex—this is an oil-based on flax seed oil that nourishes my skin. I use it everywhere. I of course can't live without my 365 SPF 30 Sunscreen, Visualift Eye Cream and Ultraluxe 9 Age Control Complex. Other items are Franché Mineral Cosmetics' lipgloss and Kim Vo hair products. I use the entire line and adore them!
GCI: What projects are on your roster now, and for the near future?
Sonya Dakar: I am working on quite a few projects. In the next few years, I hope to open up additional Sonya Dakar Skin Clinics in key markets, some line and brand extensions and a few more projects (that are still in early stages of development). It is an exciting time for me, my family and the skin care industry!