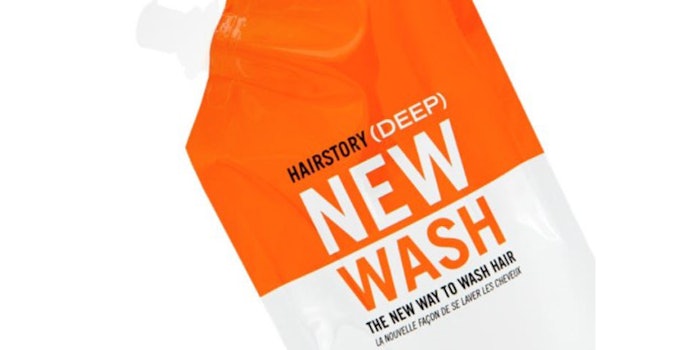 Hairstory has received a minority investment from Summit Partners, enabling the company to accelerate investments in sustainable formulations and packaging, expand its hairdresser community and help more consumers understand that shampoo is "the enemy of good hair."
Previously: Unilever Q3/9-month Growth and Inflation Forecast
Hairstory's core product, New Wash, cleans hair without any detergent, ending what the company views as a vicious cycle of over-cleansing created by shampoo. The company's foundational belief is that cleansing without shampoo is healthier for the hair and scalp while also safer for the environment. 
Eli Halliwell, Hairstory CEO said: "Switching from shampoo to New Wash helps you get the hair you were always meant to have. Our customers are consistently telling us that they suddenly start getting unsolicited compliments on their hair when they switch. It is hard to believe removing the shampoo from the equation can make such a difference, but it does. We are passionate about the environment and challenged ourselves to think differently about our environmental footprint from the start. One of the biggest opportunities we identified was our ability to reduce plastic consumption. We launched with refill pouches for our subscriptions at the outset and quickly realized people were OK abandoning their plastic bottles, so we switched everything over to refill pouches. We are just starting to apply the same strategy to our styling products and our goal is to be the first beauty company to be 100% refillable."
Melanie Whelan, a managing director with Summit Partners who has joined the company's board of directors, said: "We believe Hairstory's differentiated and effective products, customer loyalty, profitability, and consistently smart and deliberate growth decisions make them a rare brand. We are delighted to partner with Eli and this passionate team to support the company's next chapter: working to deploy a more expansive growth strategy while furthering sustainability-focused product innovation."