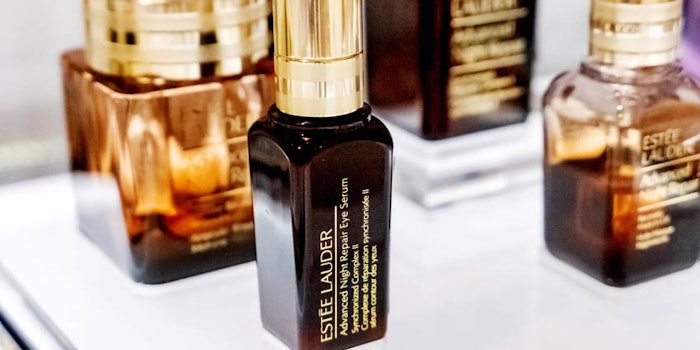 The Estée Lauder Companies has unveiled its Fiscal 2021 Social Impact and Sustainability Report Report, highlighting PCR and virgin plastic packaging targets, among other initiatives.
Beyond packaging, the report also includes the company's efforts on inclusion, diversity and equity; climate; social investments; responsible sourcing; and green chemistry.
Packaging 
The Estée Lauder Companies has achieved its original PCR goal and now plans to increase the amount of PCR material in its packaging to 25% or more by the end of 2025. The company also plans to reduce the amount of virgin petroleum plastic in its packaging to 50% or less by the end of 2030.
In fiscal 2021, 89% of the company's forest-based fiber cartons were FSC-certified, increasing from 28% in fiscal 2019. The company's goal is to have 100% of its forest-based fiber cartons FSC-certified by the end of 2025.
Elsewhere, ELCCF's partnership with Plastics for Change reportedly helps to enhance livelihoods for waste collectors in India, the majority of whom are women, while diverting plastics from the ocean.
Finally, the company completed a two-year HERproject program in its packaging supply chain in fiscal 2021, in partnership with Business for Social Responsibility (BSR). It is now expanding the program into agriculture, targeting shea.
The program will draw on existing HERproject curriculum modules such as gender awareness, communication skills, problem solving, financial planning and wellness. 
Ingredients & Formulations
The Estée Lauder Companies has reportedly "integrated an innovative green chemistry program into its product development process" for new launches. In addition, by the end of 2025 all brands will publish key ingredient glossaries. 
Already this year, Estée Lauder, M·A·C, Bobbi Brown, Bumble and bumble, Editions de Parfums Frédéric Malle, GlamGlow, and Smashbox published ingredient glossaries on their websites.
In fiscal 2021, the company joined the Global Shea Alliance, a nonprofit industry association that promotes sustainability, quality practices and standards for shea in food and cosmetics. 
Climate & Energy
The company was named to the CDP Climate A List in 2020 and was honored with RE100's 2021 Enterprising Leader Award. 
The Estée Lauder Companies' 22 MW virtual power purchase agreement for a wind farm in Oklahoma has become fully operational, generating enough clean, renewable energy to cover its entire North America operations.
The company also established an on-site solar installation in Hillmount, Canada, bringing its total solar capacity to 5.7 MW.
The company reportedly generated a cumulative total of more than 5,000 MWh of solar energy in fiscal 2021.
Inclusion, Diversity, Equity & Social Commitments
The company has set new commitments to gender equality, inclusive of achieving gender pay equity by 2023 and globally increasing representation of women from underrepresented groups across its regions and affiliates.
This year, the company reported that 82% of its global workforce is female, and 46% of its U.S. workforce is Black, Indigenous and people of color (BIPOC).
Fifty-five percent of global VP positions and above at the company are held by women, and 44% of the board of directors are women.
The company has also established an Equity and Engagement Center of Excellence to drive progress toward achieving equity across the organization and develop pathways to further opportunity and advancement for all employees.
In fiscal 2021, ELCCF became an inaugural donor to Co-Impact's Gender Fund with a pledge of $15 million over five years focused on achieving transformative systems change for gender equality. It also committed to support G4GC's Black Girl Freedom Fund.
ELCCF has increased its longstanding support to include all The Young Women's Leadership Schools in New York serving girls in high school.
Elsewhere, the ELC Cares Employee Relief Fund has awarded more than 13,700 grants and distributed more than $7.9 million through June 30, 2021 to employees worldwide.
Meanwhile, ELC Good Works donated $2.9 million to more than 3,500 nonprofits in 19 markets globally.
"In fiscal 2021, we worked hard to continue developing long-term solutions to help protect our planet, drive inclusion and equity, and put people at the heart of everything we do—all while meeting our business objectives," said Nancy Mahon, senior vice president, global corporate citizenship and sustainability, The Estée Lauder Companies. "While we've made great progress, we know there is more collective action needed to help address ongoing and new challenges in the next decade." 
"Despite the pandemic, we remained steadfast in prioritizing the health and well-being of our employees, consumers, and communities around the world, while delivering on our long-term commitments," said Fabrizio Freda, president and CEO, The Estée Lauder Companies. "Doubling down on our social impact and sustainability strategy is an important part of our goal to continue delivering long-term value and remain the global leader of prestige beauty."
"As The Estée Lauder Companies marks its 75th anniversary, it is important to recognize that the company's success has long been rooted not only in its business strategy, but in a deep understanding of its core values," said William P. Lauder, executive chairman, The Estée Lauder Companies. "These values, including respect for the individual, uncompromising ethics and integrity, generosity of spirit, and fearless persistence are what will accelerate our commitments into the next 75- years and beyond."