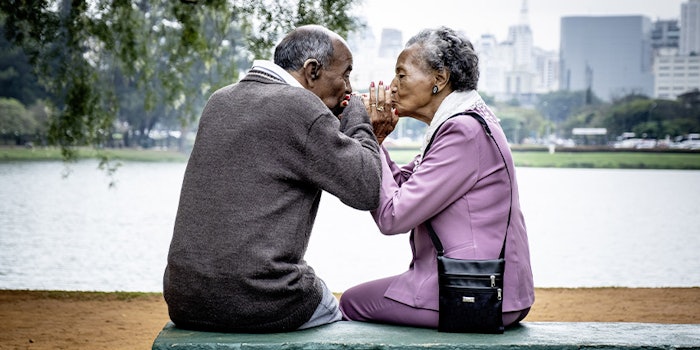 Nivea has published two consecutive global reports on the state of human touch from before and during the COVID-19 pandemic. The results have led Nivea to launched its new initiative #CareForHumanTouch. 
Related: L'Oréal USA x NAACP Inclusive Beauty Fund
The reports surveyed 12,207 people in the 12 countries pre-pandemic (October 2018-March 2019) and 11,706 people in nine countries during the pandemic (April 2020-October 2020), all between 16 and 69 years of age. 
The report revealed nearly half of the people surveyed said that the isolation made them feel lonelier than ever before. Four out of five people living alone reported that they do not experience human touch on a daily basis. Almost two out of three respondents wish that they would receive more hugs. 
The study has also found a connection between feelings of loneliness and lack of being in touch with others, both physically and emotionally.
It shows that people around the world have sacrificed physical touch during the pandemic and often endured loneliness as a result. Of those surveyed, 75% of people said that isolation has made them realize how important physical touch is for health.
In response to these findings, Nivea has launched its brand purpose, "Care for human touch to inspire togetherness," and commits to pointing out the proven health benefits of physical touch and promoting skin-touch, as soon as circumstances permit.
With its new initiative #CareForHumanTouch, Nivea pledges to invest 20 million euros in local skin-touch projects around the world, reaching 150,000 people, among them babies born preterm, the visually impaired and elderly with dementia.
The brand also aims to make 100 million people aware of the proven health benefits of skin-touch by 2025.
Nivea kicks off its purpose launch with a documentary film that showcases the true story of preterm born twins from Hamburg and how one twin's life was saved in the incubator by the skin-touch of her sister.
Ralph Zimmerer, vice president global Nivea brand identity and brand capability, said, "Driving awareness of the need for and the health benefits of skin-touch is crucial. We will take on this role and continue to be the custodian of human touch and togetherness. While we are forced to stay socially distanced from each other during the pandemic, we have to maintain and deepen our close relationships as a shield against loneliness. Within our close family, skin-touch is therefore more important than ever."
Stefan De Loecker, chief executive officer of Beiersdorf AG, said, "Nivea has always cared for skin and we have always cared for people. This is what defined Nivea from the start. With our contribution we want to make a difference. And we will use Nivea's influence and reach to spread awareness of the positive health effects of human touch."