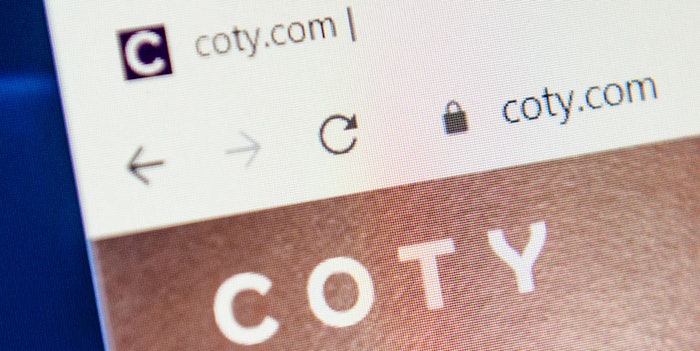 Coty announced its second quarter 2021 results that showed an adjusted operating income of $188.4 million, up 7% compared to the previous year. Six month results reported an adjusted operating income of $269.5 million, up 11% compared to the previous year.
Previously: Coty Consolidates Global Fragrance Operations
Coty's net revenue for Q2 was $1.41 billion, a decrease of 15.9% year-over-year, and its six-month net revenue was $2.53 billion, a decrease of 17.9% year-over-year. 
The company reported a gross profit of $831.6 billion in Q2, compared to $1.05 billion in 2019. Its six-month gross profit was $1.40 billion, compared to $1.9 billion the previous year. 
Coty's operating income in Q2 was $17.0 million.
The Wella divestiture closed as planned on November 30, delivering $2.9 billion gross proceeds. Combined with free cash flow of $389.4 million, financial net debt fell to approximately $4.8 billion at the end of Q2.
Economic net debt, which includes the stake in Wella valued at quarter end at approximately $1.2 billion, fell to approximately $3.6 billion. 
Coty continues to make progress on its strategic priorities, including digital and e-commerce acceleration, which grew 40% in Q2, expanding into white space opportunities including prestige cosmetics and skin care, building out its presence in China, and strengthening its core prestige fragrance business and stabilizing share in the mass beauty business through leading innovation and improved execution.
Sue Y. Nabi, Coty's CEO, said:
Our strong second quarter results build on the momentum of the first quarter, as the entire organization continued to act with discipline, flexibility and creativity in an uncertain environment. With revenues delivering on our objectives and profit, cash flow and debt all ahead of expectations, including 6% EBITDA growth, it is clear that a much stronger Coty is emerging, which we believe will weather any near-term market headwinds while simultaneously positioned strongly to capture the opportunities of the eventual global recovery. Entering Q3, January trends are starting inline with our expectations.
The strong execution on our fixed cost savings plan, with approximately $160 million of savings generated in the first half of FY21, and a solid pipeline of projects for the second half, give us confidence to raise our savings target for the full year to approximately $300 million. The additional savings will allow us to protect our profitability in the coming months of uncertainty while simultaneously freeing up funds to increase our A&CP investments in the second half of FY21 to support our carefully chosen strategic initiatives.
We continued to progress on our strategic objectives during the quarter. Our e-commerce momentum, with 40% sales growth was broad-based, spanning the prestige and mass businesses, across key regions, and fueled by success in pureplay e-retailers, brick & click retailers, and DTC. Our China prestige business continues to grow, with strong fragrance sell-out and the more than doubling of retail sales for both Gucci and Burberry cosmetics, speaking to the strong appeal of both brands to Chinese consumers. And we have continued building on Gucci's momentum in China, with the opening this week of the Gucci Beauty flagship store on Tmall, for which we see tremendous potential in the coming years. And in our core business, we continue to deliver leading innovation in both prestige and mass.
I am delighted to see Marc Jacobs Perfect ending the year as the #1 fragrance launch of CY20 in the U.S., U.K, Canada and Australia, while Hugo Boss delivered strong innovation behind Alive and Boss Bottled. Meanwhile, we continued to build our prestige cosmetics footprint, with sales growing double digits in Q2. In mass, Rimmel's revamped Lasting Finish 25H foundation helped strengthen its market share in the UK and Italy, while Cover Girl continued to strengthen its positioning as the brand leading on clean, vegan and cruelty free products, through its Clean Fresh line-up and the more recent launch of Lash Blast Clean mascara. Additionally, we are gradually stabilizing market share in our mass beauty business, fueled by the strong momentum of our brands online, including nearly a doubling of share on Amazon.
At the same time, we have strengthened the Coty leadership team with Stefano Curti joining as Chief Brands Officer, Consumer Beauty; Alexis Vaganay as Chief Commercial Officer, Consumer Beauty; Laurent Mercier elevated to Coty CFO and Stephane Delbos promoted to Chief Procurement Officer. The new Coty team is now in place, bringing strong beauty and business experience, deep knowledge of Coty, and relevant knowledge of new areas like skincare. At the same time, we are supported by a strong and female-majority Board of Directors, including the recent additions of two new directors, Anna Adeola Makanju and Mariasun Aramburuzabala Larregui.
As we have finalized our strategic review, including new growth opportunities, brand equity mapping, and a repositioning plan for our core mass brands, we will share our strategic priorities around accelerating growth in mid-April, with a full Investor Day planned for Fall 2021.
I am excited by the tremendous opportunities and exciting journey ahead for Coty, and look forward to sharing this vision in the coming months.