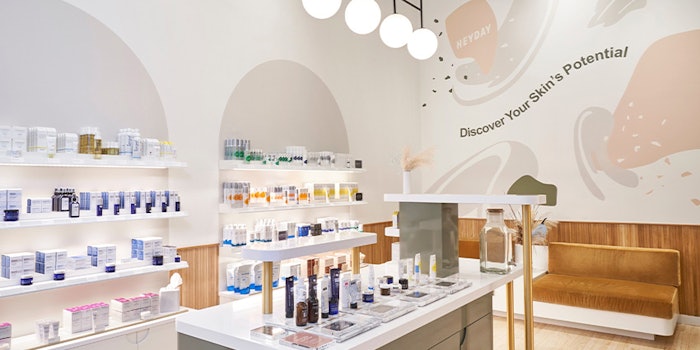 Heyday has received $20 million in Series B round of funding led by Level 5 Capital Partners (L5) with participation from existing investors Lerer Hippeau and Fifth Wall Ventures.
Related: HydraFacial Going Public, Releases Prelim 2020 Sales
Heyday plans to use the funds to expand its franchise, reach more customers and cement its position in skin care.
The expansion will meet the consumer both on and offline and will be inclusive of physical store expansion through a new franchise system while simultaneously digitizing its experiences and services.
L5 will also become an anchor Heyday franchisee with a commitment to invest in 40 units over the next five years, and work closely with Sean Bock, Heyday's chief development officer, who previously oversaw all franchise-led growth at Drybar.
To lead Heyday's expansion, the company has also hired Maureen Sullivan as president who was previously president and COO at Rent The Runway.
Heyday will also utilize the investment to expand the talent and expertise that will power the growth of its skin care platform by creating opportunities for more than 250,000 estheticians across the country both in the treatment room and online.
Global Cosmetic Industry recently interviewed Adam Ross, co-founder and CEO of Heyday.
What is the role of high-touch brick and mortar retail post-pandemic? How will the experience be shaped by what has been learned during the crisis?
Ross: We strongly believe that demand for high-touch, personalized service experiences will be stronger than ever post-pandemic, especially for businesses that focus on self-care. Consumers will continue to opt for services that help them feel and look better, because it's an investment in themselves.
It will be interesting to see how consumer spending will shift across other brick and mortar category categories, too. For instance, and with a focus on fitness, you can get a comparable workout at home as clients once did in the gym.
While a daily, at-home routine is central to having great skin, there is no substitute for a facial serviced by one of our expert estheticians who use professional strength products. This is the gold standard of a great skin care routine. 
Pre-pandemic we had a simple menu for our clients that adhered to the health and sanitation requirements in our industry, also which are inline with those of a dentist's office.
We clearly had to make some changes with COVID with sanitizer stations, temperature checks, etc., but the overall experience is as strong as it's ever been, our menu remains simplified given all our facials are personalized. In fact, our NPS score which was 83 pre COVID, is now around 85, which is a credit to the fantastic work our shop teams do daily.
What are the key areas of focus for the brand in terms of personalized experiences? How will the new funding aid their development?
Ross: Clients don't necessarily think in terms of "channels'' the way companies do, they simply want to have the ability to engage with a brand any way and at any time. We're taking the lessons that we learned from 350,000+ facials in combination with unique data points from our shops to power our experiences online.
The end result is a complete skin care platform for our clients, whether they want more support or guidance in between their shop facials, or for those who live in areas where they do not have access to a local Heyday store.
With this model, we will be in a position to offer consumers personalized skin care solutions both on- and offline. It's incredibly exciting to be leading an accelerated growth category based on our experience and we do not see the opportunity for market competition. 
Skin care is important to consumers (90%+ of them use products twice daily), yet there is still confusion and lack of confidence in their overall skin routine. Our mission is to change that by giving consumers access to experts to build and develop personalized skin care routines.  
By leveraging a combination of data and human touch our focus is to reach the many clients that can't walk in our doors and spend an hour with an esthetician.
The fundraise will allow us to further scale to reach even more customers and cement our position as the most trusted brand in skin care, with innovation in delivering digitalized skin care and expansion through the franchise of our high-touch, personalized physical experience.
Generally, how would they describe the state of the beauty market in general and the Heyday target consumer? How are needs changing and have any of their priorities shifted in the last 12-plus months?
Ross: The esthetics industry is unfortunately one of the hardest hit industries in the pandemic. As a result we expect to see a significant number of spa and salon closures in the coming months as they won't have the financial resources to survive much longer.
The multi-month closures have been incredibly challenging to navigate. We expect a much stronger second half of the year based on the pent up demand for facials and see this as the opportunity to onboard more estheticians to satisfy this demand.
Generally speaking, we are seeing clients that are more attuned to their skin, many of whom see themselves on daily video calls and/or are experiencing new skin issues from mask-wearing and generally heightened stress and anxiety.
We've also noted the percentage of new clients since reopen at 21% (and was 30% pre COVID-19)—demonstrating the organic demand for skin care, inclusive skin care.
The Heyday client is either skin care savvy, or wants to be skin care savvy. There is a real desire for content on how to use, when to use and why to use their skin care products. Our work is to deliver on these needs by filtering out all the noise in a very overwhelming category and giving each client the information that is relevant to their own skin care needs. 
I believe the definition of beauty is also evolving with skin care becoming more a separate definition and makeup/color remaining more in the scope of "beauty." Skin care is increasingly being viewed as self-care and a top daily routine and we're seeing this across all our consumers, regardless of demographic.