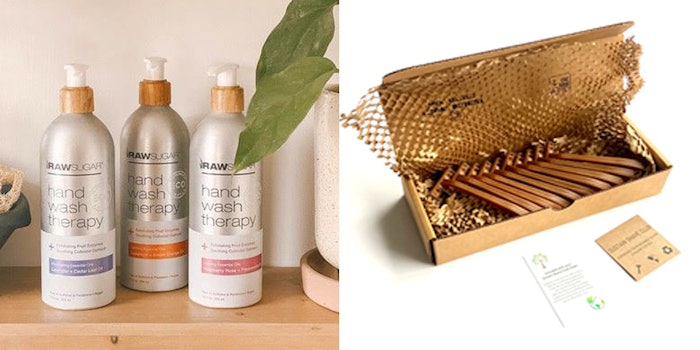 MasqueBar and Raw Sugar Living have announced their newest product launches: animal sheet masks and Hand Wash Therapy, respectively. And a new grooming brand has hit the market: The Sustain Shave Club.
Related: Little Slacks Announces Partnership with Women Artisans
MasqueBar's newest collection of sheet masks, Pretty Animalz Puppies Collection, includes five different animals said to help moisturize and hydrate the skin. 
The collection includes:
Beagle Sheet Mask, enriched with papaya, honeysuckle and grapefruit extracts.

Dachshund Sheet Mask, enriched with power leaf stem, grapefruit and algae extracts.

Dalmatian Sheet Mask, enriched with kiwi fruit and power leaf extract.

Husky Sheet Mask, enriched with soybean, mushroom and witch hazel extracts said to help clear problematic skin.

Poodle Sheet Mask, enriched with lime, grapefruit and honeysuckle extracts. 
The brand has also released a Pig Sheet Mask infused with coconut extract, mixed berry and honeysuckle. 
MasqueBar has also announced two up coming launches: a Panda Sheet Mask formulated with honeysuckle, grapefruit and rosemary extract, launching March 16, 2021, as well as a Unicorn Sheet Mask formulated with kiwi and seed extract, launching April 9, 2021.
As for retail launches, Raw Sugar Living's has announced its Hand Wash Therapy personal care collection is now available exclusively at Target stores nationwide and online at Target.com.
These products are infused with cold-pressed extracts, essential oils, and gentle, plant-derived exfoliating beads to help rejuvenate hands and uplift the senses. Each Hand Wash Therapy contains botanicals, fruit enzymes and calming colloidal oatmeal, as well as a stress-relieving aromatherapy scent experience.
Hand Wash Therapy's formula is packaged in a recyclable and sustainable aluminum eco-bottle.
Donda Mullis, co-founder and CMO, Raw Sugar Living, said, "We believe all persons have the right to clean, healthy living at an affordable price. Our innovative clean formulas and premium sustainable packaging are simple, clean and earthy. We want to be that brand people proudly display on top of the sink."
Ronnie Shugar, co-founder and CEO, Raw Sugar Living, said, "We're known for our signature scents, which was a key focus in crafting our Hand Wash Therapy collection to provide an exhilarating sensory experience. We're constantly seeking new ways to disrupt the marketplace to make clean living more accessible—and more rewarding—for all."
Meanwhile, the Sustain Shave Club has announced the debut of its monthly membership of eco-friendly products.
The monthly box includes:
Ten partially biodegradable razors (35% wheat straw/65% plastic).

Packaging that is 100% recycled and/or biodegradable. 

One tree planted per order.
The package has carbon-neutral shipping offsets for every order and contains 100% recycled paper marketing materials and business cards, as well as recycled tape and packaging materials.