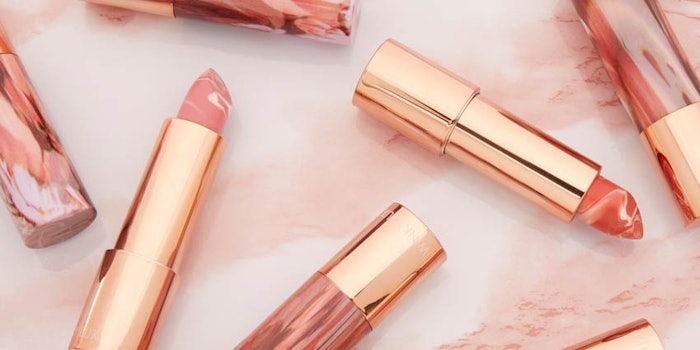 Winky Lux and Sugar Cosmetics have announced their latest launches.
Related: Launch Roundup: Paula's Choice, Merit, Codex and More
Winky Lux has launched its Marbleous Balm, a sheer wash of color enriched with ceramides for plumping and coconut oil for softening.
The balm is available in three shades:
Giddy: cool toned baby pink.

Delighted: peachy pink.

Dreamy: natural pink.
Each marble lip balm comes in a unique casing that has been water printed for a one-of-a-kind design, no two marbelous lipstick casings are alike.
Sugar Cosmetics has launched its first-ever product collaboration: Sugar X Wonder Woman collection, after acquiring the rights from Warner Bros. Media for a period of one year from the launch.
The collection includes: 
24-Hr Lip Lacquer: 10 shades of mousse-textured, smudge-proof and transfer-proof lipsticks.
Creamy Matte Lipstick: 10 shades of creamy, lightweight veil of opaque color that sets to become a matte finish. 
Everlasting Matte Lipstick: 10 shades of matte lipsticks with a highly pigmented matte finish and a wear time of 10 to 12 hours.
Mixed Palette - 01 Cosmos Conqueror: This features six eyeshadow shades in hues of peach, gold and bronze, both in matte and shimmer texture, a cool-tone bronzer, a matte peach blush and a champagne gold highlighter.
Mixed Palette - 02 Primal President: This features six eyeshadow shades in hues of mauve pinks, rose gold, bronze, all in a mix of matte and shimmer texture, a warm tone bronzer, a peach blush and a honey gold highlighter
Vineeta Singh, co-founder and CEO, Sugar Cosmetics, said, "We are extremely excited with how our first-ever product collaboration line has turned out. Sugar as a brand caters to strong, independent millennial women. This Women's Day, we want to celebrate these women for who they are and for everything they've been through to become what they are today. This collection is for all those strong and fearless women! As Sugar rapidly scales towards expansion, we hope that this wonderful collection will play a vital role in increasing our consumer base and help us scale our retail footprint from 10,000 stores to 40,000 stores before this year ends. I truly hope this collection is as loved and appreciated by all the women out there because they truly deserve the best, and that is what we've aimed for with Sugar X Wonder Woman."
Amrita Shinde, head of brand marketing, Sugar Cosmetics, added, "Sugar X Wonder Woman product collaboration launch couldn't have been done at a better time than now. The past year - 2020 has brought out the never-seen-before tenacity and vigour to strive harder, beating any difficult situation. The proof of this has been the Sugar team and customers who together led the brand to an increased revenue, even beyond pre-COVID levels. The intention of this collaboration was to showcase beauty meeting power and the limited-edition Sugar X Wonder Woman collection is a tribute to every woman out there who is their own wonder women!"