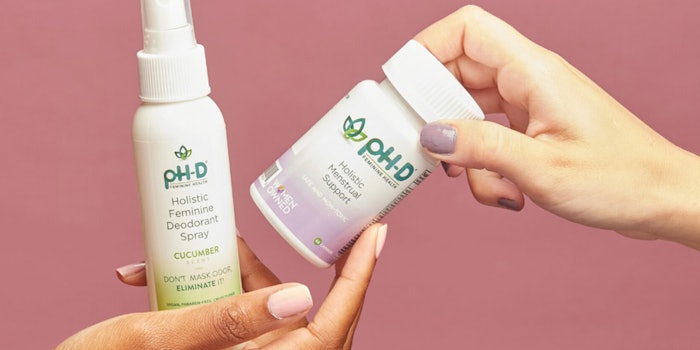 pH-D Feminine Health is expanding distribution of its Boric Acid Suppositories to all 3,700-plus Walmart retail locations. It is also launching a national TV and online video ad-campaign, Know Yourself Well: 30.
Related: Hello Again THC and CBD Vaginal Suppository for Menopausal Women
At more than 750 Walmart stores, pH-D Feminine Health's Holistic Feminine Deodorant Spray and pH-D Instant Vaginal Odor Rinse will be available. 
pH-D's campaign focusing on feminine odor was created with New York-based ad agency Fancy. The ad's voiceover highlights several causes of vaginal odor and ways to manage them.
Deeannah Seymour, CEO and founder, pH-D Feminine Health, said, "As a female founder of a brand dedicated to feminine care it's my mission to de-stigmatize the conversation around our bodies and provide safe, accessible, holistic solutions for women. Silence about vaginal odor perpetuates the fact that many women who are struggling with it feel as if they are alone. For years now, our society has embraced treatments and public discussions around extremely intimate and personal issues affecting men, yet strong stigmas still surround feminine care. This is not right. It shows we still have a lot of work to do as a society to have equitable conversations regarding sexual wellness."