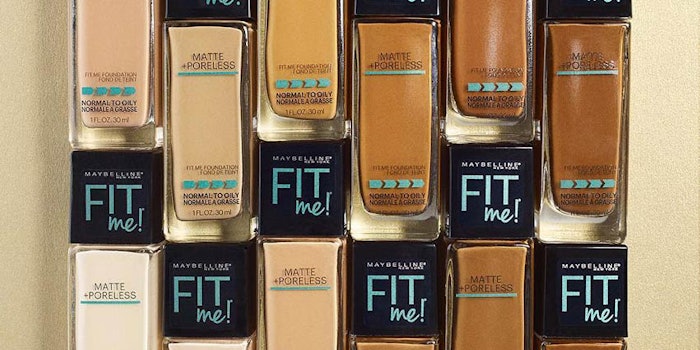 @maybelline/ via Facebook.com
L'Oréal saw a "strong pace of growth" for the first half of 2018, according to its recently released financials.
Sales were reported at €13,390.7 million, an increase of 6.6% on a like-for-like basis. For the second quarter, specifically, sales saw attain a like-for-like increase of 6.3% and reached €6,612.1 million.
Previously: L'Oreal Paris Launches First Travel Campaign
Professional product sales were reported at €1.631.5 for the first half (up 1.6%), and €834.2 million (+1.4%) for the second quarter. All geographic zones, except for Western Europe, saw growth. Hair color saw strong growth for the Shades EQ and Redken brands, while Kerastase was noted for its new Resistance Extentioniste line and the continuing success of its Fusio-Dose customized in-salon hair care treatment. L'Oréal Professionnel's Source Essentielle natural hair care range was cited for its 'promising start.'
Consumer products saw sales of €6,136.8 million for the first half, and €3,066.4 million for the second quarter, up 2.5% and 2.3%, respectively. Though the division is still facing "difficulties" in France and Brazil, its performance was "dynamic" in Asia—particularly China and India—as well as Eastern Europe; e-commerce sales also grew. L'Oréal Paris maintained growth momentum due to good performance in facial skin care, most notably its Revitalift anti-aging franchise, and Maybelline posted good growth driven by foundations (particularly the Fit Me range).
L'Oréal Luxe reported first half sales of €4,391.4 million (+13.5%), and second quarter sales of €2,138.9 million (+13%). The division's top four brands—Lancôme, Kiehl's, Giorgio Armani and Yves Saint Laurent—all saw double-digit growth. The division is strengthening its worldwide positions with growth in Asia, particularly China, as well as the fast growing pace of travel retail. In regards to e-commerce, the division saw a successful launch of Yves Saint Laurent and Giorgio Armani on the Chinese website Tmall.  
Active cosmetics sales were reported at €1,231 million for the first half and €572.6 million for the second quarter; these were respective increases of 11.4% and 12.9%. All major brands, including La Roche-Posay, Vichy, SkinCeuticals and CeraVe contributed to the division's growth. Growth was strong across all zones, as well as e-commerce.
Jean-Paul Agon, chairman and chief executive officer, said of the figures: "In a beauty market which remains dynamic and is becoming more premium, L'Oréal is continuing to achieve strong growth. In lively markets, the L'Oréal Luxe and Active Cosmetics Divisions have both recorded double-digit growth, driven by the power of their brand portfolios and the quality of their innovations. The Consumer Products Division, especially with a robust performance at L'Oréal Paris, has recorded moderate growth, held back by an environment that is very difficult in some markets. The Professional Products Division, meanwhile, has posted a slight increase in sales.
Across the geographic Zones, the New Markets accelerated once again, especially in Asia. North America is gradually improving, while Western Europe is affected by persistent difficulties in France, and by the slowdown in the United Kingdom.
The Group's digital lead is continuing, particularly in e-commerce 2, which posted +36.4% growth in the first half and represents 9.5% of sales. L'Oréal also reaffirms its leadership in Travel Retail, which grew by +27.3% 1.
The Group has delivered quality results paving the way for the future. The strong growth in gross profit indeed enables the Group at the same time to increase profitability, support investments in Research and Innovation, and raise the business drivers to further develop our brands. Net earnings per share has increased by +5.3% 3 and by +10.7% at constant exchange rates.
The good sales growth and the quality of the first-half results reinforce our confidence in our ability to once again outperform the cosmetics market in 2018, and to achieve significant like-for-like 1 sales growth and an increase in our profitability."