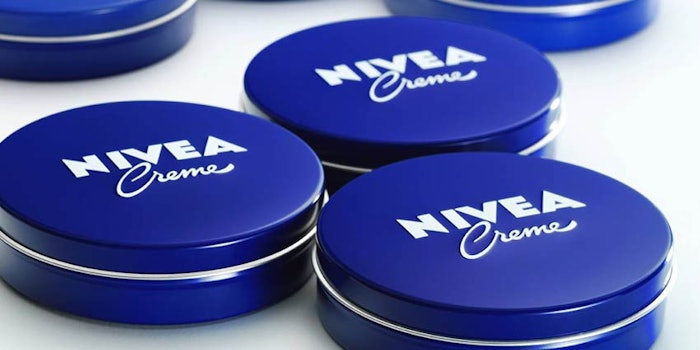 @NIVEAusa/ via Facebook.com
Nivea recently launched Co-Lab, a crowdsourcing initiative inviting creatives in the United Kingdom, Korea and Brazil to participate in an ideas pitch. This represents a significant expansion of Beirsdorf's open innovation efforts. But why is the company pursuing these programs?
Adi Gaskell, writing for InnoCentive, has pointed out, "The worrying thing is that expenditure on R&D has had to double every 13 years just to maintain the same level of growth in the economy as a whole, with no industry managing to innovate in a cost effective manner. It underlines the challenges we face in innovating effectively and efficiently, with this apparent exponential growth in expenditure unsustainable."
While open innovation doesn't resolve every R&D issue, it can alleviate some of the investment burden for large organizations. For instance, Nivea's latest initiative seeks ideas which "use technology to bring people together and create real personal encounters in a digital world." The submissions were open to the general public and will close as of Sept. 4, 2018.
"When it comes to creativity, we recognize that good ideas can come from anywhere."
In 2015, Nivea manufacturer Beiersdorf (Hamburg) held an internal trade fair featuring more than 200 researchers as part of its open innovation initiative, which focused on "special cosmetic textures and promising trends in skin care," according to the company. Select raw material suppliers attended, offering demo formulas "tailored" to Beiersdorf brands.
Those innovators who make this year's shortlist will be invited to London, Sao Paulo and Seoul, where they will be mentored by Nivea strategists and technology experts. Finalists (one from each country) will then be invited to provide a live pitch at Beiersdorf's Hamburg, Germany headquarters. These participants will also receive 10,000 euros, and an opportunity to work with Nivea and digital agency partner Cheil Worldwide to have their work produced and executed around the world.
Related: Beiersdorf Announces 2017 Full Year Results
"When it comes to creativity, we recognize that good ideas can come from anywhere," said Matt Marlow, Beiersdorf head of global digital activation. "So we're reaching outside of our normal approach to creative development and are involving the very communities who use our products to tell us what we should do."
He added: "For the pilot, we've carefully chosen the countries based on their reputation for creativity and technology, but also countries which are culturally different from each other so we get a broad spectrum of ideas. Based on the positive response we've received so far we're already planning to roll this initiative out across more of our markets."