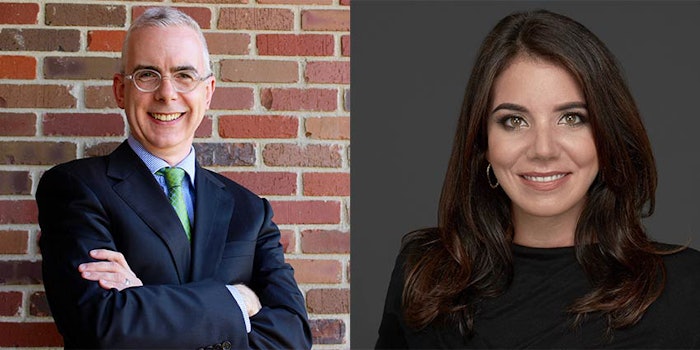 The Estée Lauder Companies has announced two key appointments: Andrew Ross has been promoted to executive vice president, strategy and new business, and Lisa Sequino has been named senior vice president, global general manager of Becca.
Ross joined the company in September 2016, assuming the role of senior vice president, strategy and new business development, where he played an integral role in developing the company's corporate strategy and 10-year strategic compass. Under his leadership, the company acquired two of its fastest-growing brands: Becca and Too Faced, the latter of which is its largest acquisition to date.
"Central to our record performance has been our ability to unleash the power of our brand portfolio and our multiple engines of growth. Andrew's excellent pulse on industry and consumer trends, and his acute ability to identify areas to strengthen and diversify our brand portfolio, has led to the growth of our business through a mix of sound strategic choices and impactful acquisitions," said CEO Fabrizio Freda. "This promotion celebrates Andrew's outstanding leadership and his continued efforts in driving the strategy to gain competitive advantage and capture growth opportunities today and well into the future."
Related: Estée Lauder Announces North American Leadership Changes
Sequino most recently served as senior vice president, general manager, Estée Lauder and AerinBeauty – North America, where she oversaw the development and execution of the North America go-to-market strategy for Estée Lauder and the growth of Aerin Beauty. During her tenure, the Estée Lauder brand gained share in North America in key subcategories, such as face serum and foundation, and across key online channels. She also oversaw the successful expansion of the brand into Ulta, and strengthened department store business.  
In her role, Sequino will be responsible for continuing to build and amplify Becca's global brand equity, developing and executing the brand strategy and advancing the global business.
"Lisa's deep command of brand strategy, combined with her terrific acumen for retailer and channel relations, especially within specialty-multi, where Becca has a significant presence, make her a perfect fit to lead this dynamic brand and team," said Fabrice Weber, president prestige and artisanal fragrances and new brands empowerment group. "We are thrilled to welcome Lisa to this new role and look forward to seeing her lead Becca into its next chapter of growth."