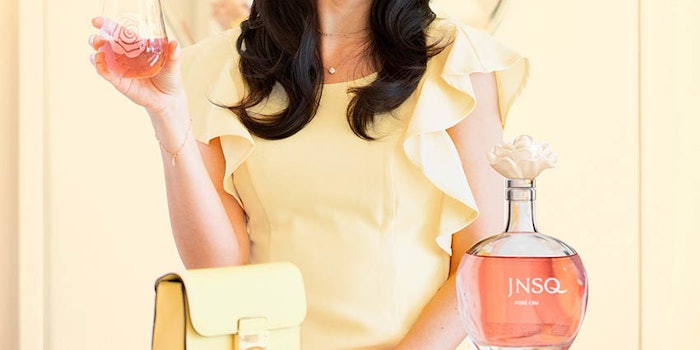 Pop the bubbly: Drybar has named JNSQ Wines its first official wine partner.
JNSQ, which targets millennial women, will provide select Drybar locations throughout the U.S. with its Rosé Cru and Sauvignon Blanc. The brand—an acronym for the French phrase Je Ne Sais Quoi—will also have styles appearing on the Drybar menu, such as rose gold hair pins and a signature braid, and co-branded merchandise available in participating locations.
To celebrate the collab, Instagram-able photo installations will be on display in Drybar locations throughout Los Angeles, Miami, Dallas, New York, Austin, Texas and more locations until mid-April, 2019.
"We are thrilled to be partnering with Drybar, the nation's premier blow out salon, to introduce JNSQ as its official celebration wine," said Clarence Chia, senior vice president of marketing and ecommerce for JNSQ Wines. "We look forward to creating unique and meaningful one-of-a-kind experiences for Drybar customers through this mutual collaboration that aims to bring beauty, blowouts, and a little je ne sais quoi to women's lives."
"At Drybar it's always been about the experience and making women feel great. Since the day we opened our very first Drybar, we have been committed to over-the-top customer service, obsessive attention to every detail, and of course providing the perfect blowouts," said Alli Webb, co-founder of Drybar.
She continued: "But that's only part of the overall experience we have become known for. Each shop is meticulously designed to create our signature, luxury atmosphere. You never feel like you're at a 'salon' at Drybar, but rather a beautiful bar, being served your favorite beverage or glass of wine while catching up on your favorite movies. I am so excited that we are partnering with JNSQ in our Drybar shops. Like Drybar, the JNSQ brand celebrates women, and it's such a fun partnership that really enhances our client experience."