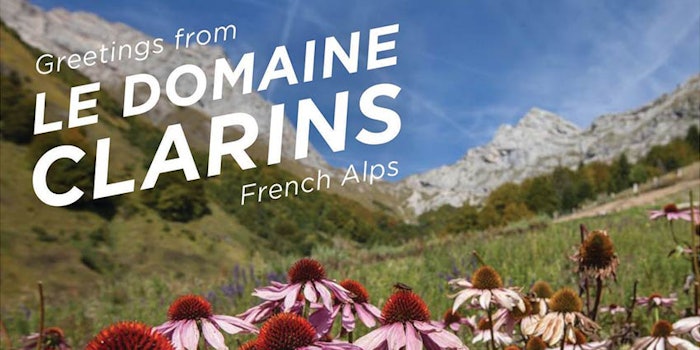 Clarins has taken a major step in its pursuit of biodiversity—the company has acquired 200,000 acres in the Alps to grow and study plants for skin care and makeup formulas.
Located at a 4,500 ft. altitude, Le Domaine Clarins is directly connected to the Clarins laboratory outside of Paris. The space is shielded by mountains, offering ideal growing conditions for vegetation; no mechanical material will be used (to keep the ground from traumatizing).
Among the features of Le Domaine Clarins: The Collection Garden, a space dedicated to new plant experimentation. Phyto-chemists from Clarins Laboratories, along with group ethno-botanist Jean-Pierre Nicolas, will experiment with and analyze plant specimens to extract their quintessence to find new beauty properties. Plants are referenced and information is collected, then added to the Clarins Herbarium (which currently contains 250 plants).
Formulas which benefit from plant-based ingredients grown in Le Domaine Clarins include organic Alpen rose extract found in some My Clarins products; organic houseleek extract found in ClarinsMen products; the organic horehound extract found in Clarins Anti-pollution complex; and Clarins cleansers.
In the long term, Clarins aims to own 100% field to jar production.
"As a scientist, I am very vigilant about the quality of natural ingredients and the way these ingredients are extracted," said Olivier Courtin-Clarins, Ph.D., managing director of Groupe Clarins. "Le Domaine Clarins gives us a chance to obtain the best ingredients while preserving the environment."