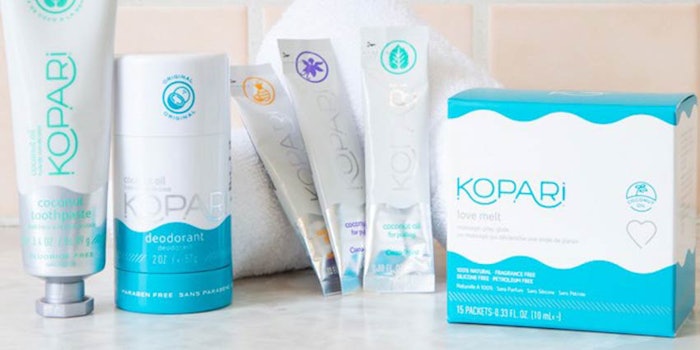 Kopari Beauty has closed a $20 million funding round.
Round partners included the Growh Fund of L Catterton, Unilever Ventures and the San Diego-based University Growth Fund.
The coconut-centric company will use the resources for research and development, as well as retail and international expansion, e-commerce improvements for UX/UI and its subscription platform. Launched as a direct-to-consumer brand in 2015, Kopari is now carried by retailers in the United States, Canada, Southeast Asia and Australia, including Sephora, Ulta, Urban Outfitters and Riley Rose.
L Catteron previously invested in the brand in January 2017, helping to support its expansion into more than 1,800 brick-and-mortar stores worldwide and develop more than 26 award-winning products across five product lines.
"In just a little over two years since our initial investment, Kopari has experienced tremendous growth and demonstrated both strong new product development and potential for global expansion," said Michael J. Farello, managing partner of L Catterton Growth Fund. "We are confident in Kopari's ability to maintain its position as a leader of the growing natural beauty and personal care categories and support the brand's mission of providing its global fan base with natural products that fit every aspect of consumers' beauty routines."
"The continued investment from such formidable firms demonstrates our sustained category dominance and successful market integration with our hero ingredient to reach a wide, and still growing, consumer set," said Bryce Goldman, CEO and co-Founder of Kopari.
He continued: "We are thrilled to partner with Unilever Ventures and L Catterton as we reach new heights in the development of our conscious skin, body and personal care products. Most of all, we are excited about the immeasurable value around growth and strategy that both entities bring to the table."