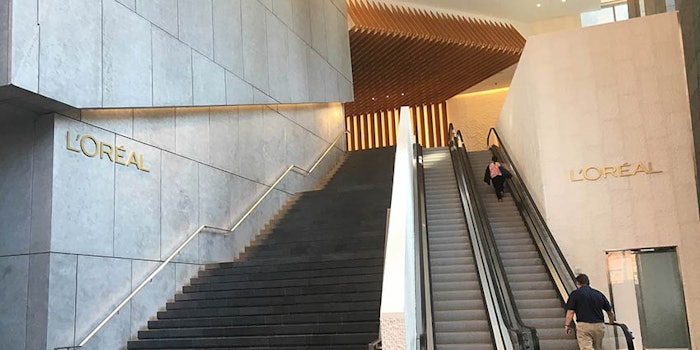 L'Oréal, which recently posted 5.8% sales growth in North America, and has expanded its digital investments, has announced that its headquarters have relocated from Midtown Manhattan to the newly renovated Hudson Yards on the city's West Side.
The site will house 1,300 L'Oréal USA employees on 10 floors of a glass office tower, spanning more than 400,000 square feet overlooking New York's High Line. The move impacts the brand teams for Essie, Garnier, Lancôme, La Roche-Posay, L'Oréal Paris, Matrix, Maybelline, Redken and SkinCeuticals, among others.
"L'Oréal is a 107-year-old company with the heart of a start-up."
Previously, about 150 employees, including creative teams from across L'Oréal USA's brand portfolio and The Body Shop, relocated to the nearby Terminal Stores building, a revitalized West Chelsea warehouse complex.
The new headquarters includes:
an open floor plan with floor-to-ceiling windows that feature a solar shade system
energy-efficient appliances
a vacuum waste collection system
a bio-digester in the cafeteria for food waste
an interactive virtual retail room for advanced retail planning
a technical salon and treatment room for product evaluation
a learning center for employee trainings
an employee cafe
a 4,000-square-foot terrace
a juice and coffee bar
a flagship company store
an employee nail salon
an on-site employee concierge
a wellness suite with four mother's rooms and two meditation rooms
"Hudson Yards and Terminal Stores have a dynamic and creative energy that aligns with the culture we are building at L'Oréal USA," said Frédéric Rozé, president and CEO of L'Oréal USA. "L'Oréal is a 107-year-old company with the heart of a start-up. These two locations represent the new entrepreneurial spirit of Manhattan, and the spaces we've created are a modern new home for L'Oréal USA that will inspire the future of our company."