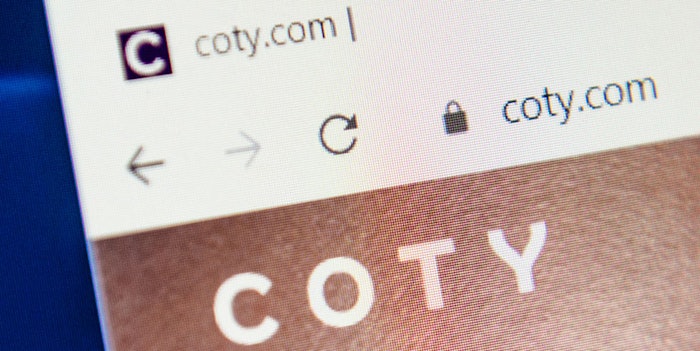 Coty Inc. released its fiscal 2020 fourth quarter and year-end results that showed a decline of sales as a result of the pandemic.
Further reading: Coty Acquires 20% Stake in Kim Kardashian West (KKW) Beauty
According to the company, year-end net revenues decreased 22% at $6,737.9 million and fourth quarter net revenues decreased 53% at $922.1 million. While sales have declined, Coty has reportedly seen gradual sales trend improvement from April through June, with significant improvements in July and August. 
Full-year luxury net revenues totaled $2,606.4 million, a 21% year-over-year decline, while Q4 luxury net revenues totaled $219.4 million, a drop of 70.9% compared to the same period of fiscal 2019. E-commerce accounted for approximately 30% of luxury sales in in the fourth quarter, though Kylie Cosmetics was hit by closures and supply chain challenges.
Consumer beauty net revenues for fiscal 2020 totaled $2,111.0 million, a drop of 29.5% year-over-year, while fourth quarter net revenues totaled $340.7 million, a decline of 54.7% from the same period of 2019. Store closures and lower store traffic impacted sales. E-commerce accounted for approximately 10% of of Q4 revenues.
Coty reported an end of year 2020 net loss of $1.013.2 million, an improvement from a reported net loss of $3,784.2 million the prior year. Coty reported a fourth quarter net loss of $772.8 million,  improved from a net loss of $2,799.4 in the prior year.
The net cash used in end of year operating activities was $50.9 million, compared to net cash provided by operating activities of $639.6 million in the prior-year period. The decline in operating cash flow was reportedly driven by the decline in net income on a cash basis, with minimal contribution from receivables factoring, as well as inventory management.
Coty ended the year with $308.3 million in cash and cash equivalents after repaying $1,300 million of its $2,750.0 million revolving credit facility in the fourth quarter.
Peter Harf, Coty's founder and executive chairman, said:
Coty's fourth quarter was marked by external shocks, as the COVID-19 pandemic triggered a crisis in the real economy and supply. The severe sales contraction for total Coty, with revenues down $1.2 billion year-over-year, led to significant operating deleverage in the quarter, even as the company focused all its efforts on protecting free cash flow which came in inline with our expectations.
Having said that, we now close this chapter and turn to the next, because Coty is back. In the last two months, we have seen a significant improvement in the business and we expect the positive momentum to continue, with a return to profit in Q1.
In the last three months that I have been CEO, my focus has been to re-steer the company back on track to realize its potential. We have taken decisive action to tackle the issues in our capital structure, financial under-performance, product portfolio, and management.