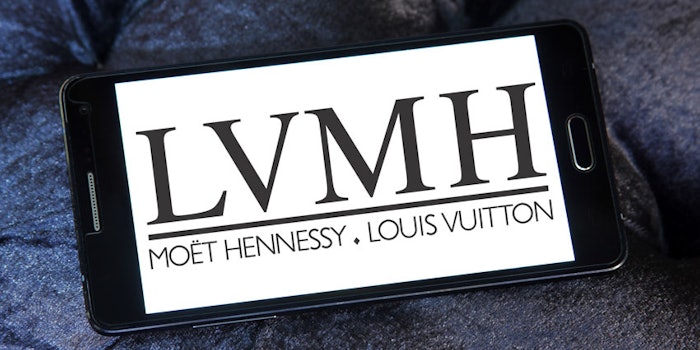 LVMH Moët Hennessy Louis Vuitton's perfumes and cosmetics business group reported a 25% decline in organic revenue in the first nine months of 2020, according to the company.

Previously: LVMH Not Acquiring Tiffany & Co. (see details below)
The perfumes and cosmetics business reported 3,674 million euros in the first nine months of 2020, compared to 4,912 million euros in the first nine months of 2019.
Third-quarter revenue was 1,370 million euros, representing a 16% year-over-year decline. This is much improved compared to the year-over-year declines seen in Q1 (down 19%) and Q2 (down 40%).

LVMH company-wide recorded revenue of 30.3 billion euros in the first nine months of 2020, down 21%. On an organic basis, revenue declined 21% compared to the same period in 2019. 
Online sales grew steadily in the third quarter and there was a significant improvement in trends in stores.
Parfums Christian Dior launched its new fragrance J'adore Eau de Parfum Infinissime and continues to develop its Prestige and Capture skin care products. Guerlain recorded growth in skin care with the continued successes of Abeille Royale and Orchidée Impériale, and Rihanna developed skin care brand Fenty Skin.
"LVMH will continue to exercise caution, strengthen its cost controls and selectivity in its investments," according to the company. "The group will maintain a strategy focused on preserving the value of its brands, by continuing its marketing and communication investments and relying on the exceptional quality of its products and the reactivity of its organisation. LVMH will rely on the power of its brands and the talent of its teams to further extend its global leadership in the luxury market in 2020."
The company also offered an update on its ongoing disagreement with Tiffany:
LVMH filed its countersuit against Tiffany with the Delaware Chancery Court on September 28. To date, nine of the ten required regulatory authorizations have already been obtained and LVMH expects to receive approval from the European Commission by the end of October. The trial is scheduled for January 5, 2021.