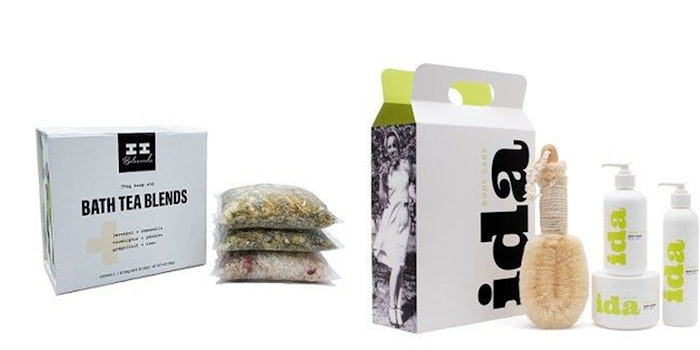 With the winter approaching, dry skin is inevitable. Numerous brands, such as Eos and I+I Botanicals, have announced the launch of body care products to combat this. Brands like Cronos Group and Beekman 1802 have also each announced their latest collaborations. 
Related: 3 Fastest Growing Skin & Body Care Trends
Eos
Eos has announced its newest collection, Shea Better Body Care, which debuts four body lotions and three body creams. The collection is said to provide 24-hour moisture and is formulated with sustainably sourced shea butter and shea oil. 
The Shea Better 24-Hour Body Lotion is available in four scents: Coconut Waters, Pomegranate Raspberry, Vanilla Cashmere and Jasmine Peach. 
Ida Body Care
Ida Body Care, an all-female company, has released its Ida Body Care: Four-Step Treatment.
This treatment includes a dry brush, a body wash with 13 natural and essential oils, a body scrub with natural sugar and 12 essential oils, as well as body lotion with 18 natural and essentials oils. The line is available in a Verbena Citrus scent. 
Vicki Weaver Payne, founder, said, "I started this company working with my mother's original body lotion formula using natural ingredients and essential oils. It's formulated specifically for dry and fatigued skin, skin that's been doing. Building. Making. Creating. Ida exists to support doers. Women and men who are seizing the moment to create incredible businesses, families and lives that have purpose."
Everyday Humans
Everyday Humans, a female-led personal care brand, has combined SPF, body care formulas and sustainable packaging at an affordable price point. Its target audience includes Gen Z and millennial shoppers.
I+I Botanicals
I+I Botanicals, a female, black-owned beauty line infused with CBD, has debuted its newest collection. 
The collection features a three-pack Bath Tea Blend. The blends contain 75 mg hemp CBD and are as follows:
Calm + Collected (Lavender + Chamomile) designed to provide relaxation.

Happy + Healthy (Eucalyptus + Jasmine) eases muscles aches and pain.

Fresh + Fierce (Grapefruit + Rose) relieves stress and inflammation.
The Bath Tea Blends bag is made from corn fabric material and is 100% biodegradable.
Happy Dance
Cronos Group has announced the launch of Happy Dance, a clean, CBD skin care brand co-founded with actress Kristen Bell. 
The launch includes cruelty-free and vegan body butter, coconut melt and bath bomb. 
Kristen Bell said, "I discovered CBD through the Lord Jones brand in 2017 and was blown away by its quality, integrity and consistency. As a working mom, I turned to CBD skincare as a way to turn down the volume of my life and CBD products have since become an essential part of my self-care routine. I was inspired to create a line of high-quality, affordable CBD bath and body care products that would reach a wide audience. Having been involved in all aspects of bringing this new brand to life, from the formulations to the packaging, I couldn't be happier to launch Happy Dance today."
Kurt Schmidt, president and chief executive officer, Cronos Group said, "We feel fortunate to be working with someone as authentic, caring and kind as Kristen. We have always been committed to improving people's lives with breakthrough cannabinoid products, which is why we're incredibly excited to launch an accessible, purpose-driven brand with Kristen Bell, someone we know consumers trust for her integrity and relatability."
Beekman 1802
Beekman 1802, the makers of goat milk-based products, has partnered with TerraCycle to make Beekman's skin care and body care product packaging recyclable throughout the United States.
Consumers can now send in Beekman's skin care and body care product packaging to be recycled for free, through its recycling program. 
TerraCycle CEO and founder, Tom Szaky said, "Now more than ever, consumers don't want to sacrifice the planet for their personal well-being. Together, Beekman 1802 and TerraCycle will keep as many of these products out of landfills as possible, allowing consumers to keep both themselves and the planet clean."