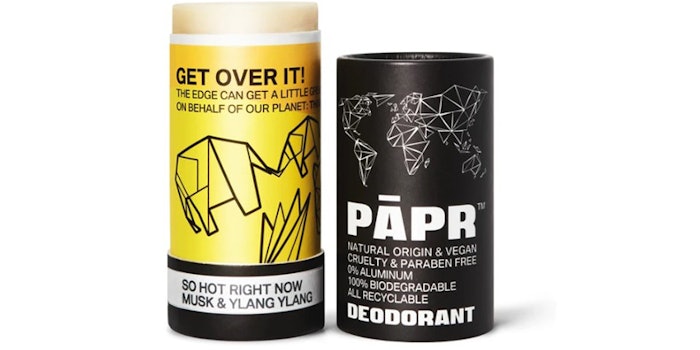 Paper Cosmetics has completed its initial funding round, lead by Obratori, the VC Fund and accelerator of L'Occitane Group, alongside Cristina Calino, founder of Philosophy skin care. 
Previously: Function of Beauty Receives $150 Million Strategic Investment
The start-up, led by founder Daniel Roescheisen, offers a range of zero waste deodorants for customers who "value clean, environmentally-friendly," and effective products. 
Terms of the investment were not disclosed. 
Amaury Godron, co-managing director of Obratori, said: "We support innovative projects, which demonstrates our strong belief in sustainable and innovative solutions. Obratori supports entrepreneurship with the same values as put forward by L'Occitane Group. Creators of innovative products forge a bond of trust between cosmetics manufacturers and end consumers."
Roescheisen said, "We are excited and humbled to become partners with such a strong investment team. It means a lot that Obratori and Cristina Carlino believe in us and the future of the brand. It also clearly shows the direction our bathrooms of the future will go where single-use plastics have no future. We are pushing for change in a fun way with products that work for us and our future."
Ingo Dauer, co-managing director of Obratori, said: "We help young companies with proven effectiveness and viability for their solutions. For Obratori, this is the first foreign startup investment. Pushing for more sustainable consumption and ensuring products of quality are obvious to us. Paper Cosmetics is answering a clear customer demand."