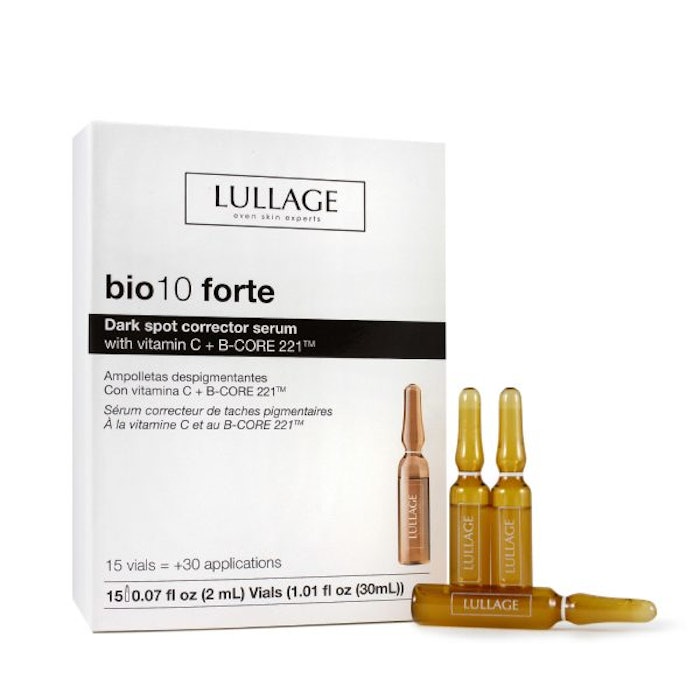 Barcelona-based Lullage, known as Bella Aurora in Europe and Asia, is now available in the United States. The brand offers a range of dark and white spot correctors and cosmetics designed to even skin tone.
Previously: Sunnies Now Available in United States
Its Bio10 Forte Dark Spot Correctors contain B-CORE 221 technology to reduce the appearance of dark spots, age spots, sunspots and discoloration. The Bio10 Forte range includes serum ampules and two moisturizer formulas, one for all skin types and one for sensitive skin. The brand also offers Splendor Radiant Facial Serum and Moisturizing Eye Cream.    
Lullage is soon launching Repigment12 White Patches Corrector Face & Body Cream to help reduce the appearance of white patches on the skin.
Lullage is launching exclusive content on its U.S. Instagram channel (@Lullage_USA). Dermatologists and skin experts from around the world will discuss all aspects of dark and white spots, including treatment options and the importance of prevention and protecting skin to avoid them and other sun-related skin conditions.    
To commemorate its American product launch, Lullage is celebrating International Skin Pigmentation Day March 25, 2022 to raise awareness about the prevalence of skin pigmentation conditions and the methods available to help alleviate them.
The brand's products are available now on www.LullageUSA.com, in-store at Walgreens, and online on Walgreens.com, Amazon and other U.S. retailers, with prices ranging from $17.99 to $35.00.
Jordi Segura, R&D director of Lullage, said, " Research shows that one in three women suffer from dark spots, which can have a large impact on their self-esteem and confidence. The efficacy of our B-CORE 221 dark spot correcting technology is unparalleled. We are thrilled to bring 130+ years of science and expertise to the U.S. to help more people address their skin pigmentation concerns."