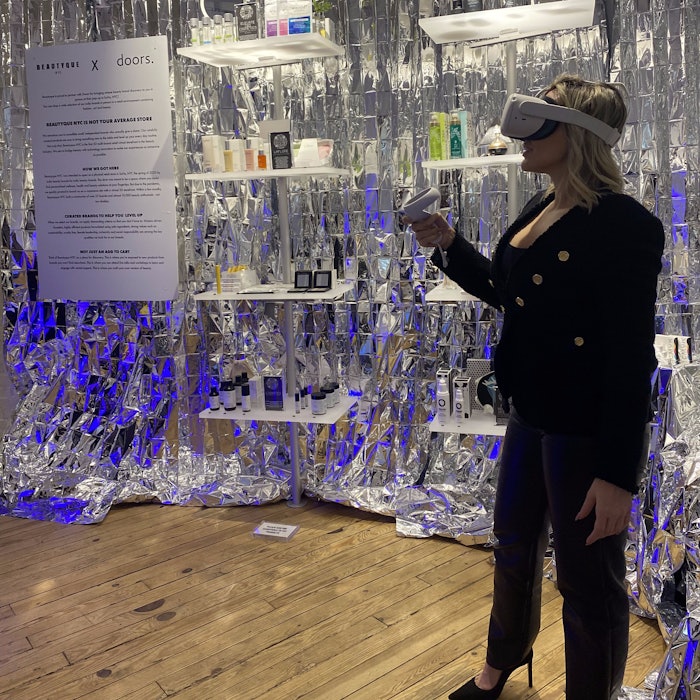 Beautyque NYC is hosting a virtual reality (VR) pop-up event, "Metaverse, Schmetaverse," in Los Angeles to promote its digital 3D beauty storefront. Visitors can use Oculus to experience beauty brands and special events in a virtual space. The month-long pop-up is in partnership with doors.nyc and showcases indie beauty brands, fashion and accessories designers and up-and-coming artists.
Related: CEW UK Debuting its Beauty Tech Summit
The virtual event includes a launch party, a Pride beauty collection launch from Derek Warburton and Face Stockholm, meet the designer events, presentations, live artmaking sessions and more. There will also be a panel discussion on the influence of Metaverse and beauty and styling events with social media influencers.
The Beautyque NYC Virtual Pop-up runs from May 28 to June 26, open on Mon-Sat from 11 a.m. to 7 p.m. and Sunday from noon to 6 p.m. The event is located at 8382 Melrose Ave in Los Angeles. RSVP for the launch party on the official event page.
Sonia Khemiri, owner and founder of Beautyque NYC, said, "On our end, Beautyque NYC launched the first multi-brand 3D virtual store in the beauty industry in May 2020 and we are here to stay, but so is physical retail. One does not exclude the other. Brick-and-mortar activations have immense value for Indie Beauty brands, emerging designers, and up-and-coming artists to introduce their work to new audiences, build trust, and amplify their stories."
Khemiri continued, "Brands will be more and more involved in adding a VR space on their website because it brings more traffic and more customer experience, especially in a very crowded digital environment, and prepares their presence in Meta, we will see more brands in VR, video games and metaverse in the next few years."