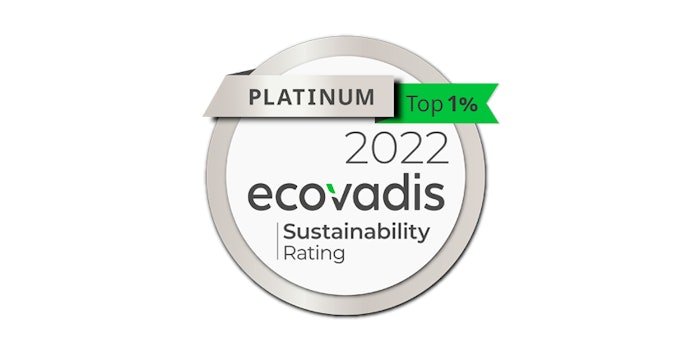 Courtesy of EcoVadis
The Texen Group has been awarded platinum status by EcoVadis for its progression on corporate social responsibility goals.
This recognition demonstrates the group's commitment to its corporate social responsibility strategy.
The group was awarded silver in 2020 and old in 2021.
"This reward is no coincidence, it is the result of extensive teamwork of which we are extremely proud," said Rémi Weidenmann, Texen's managing director. "CSR permeates every level of the group today, in our daily work. Our CSR strategy is built around a clear mission: transforming virtuous materials into positive experiences in a sustainable fashion. It targets the United Nations sustainable development goals and is based on concrete results allowing quantified actions."
EcoVadis awarded Texen an overall score of 90/100, up from 80/100 last year, due to its water usage, industrial models and eco-design. The group also showed progress in sustainable purchasing, climbing 20 points, attributed to environmental protection and ethical sourcing initiatives.
Texen joins the top-scoring 1% of companies in its sector.