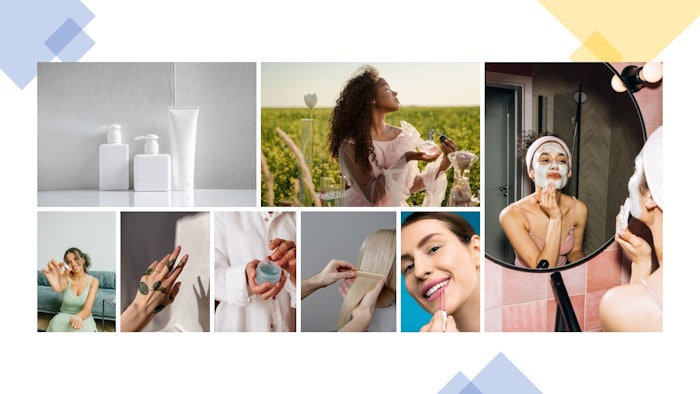 Global Cosmetic Industry provides beauty brand founders and leaders, marketers, and product developers with the job-critical consumer and market data, ingredient and packaging trends, marketing and business insights, retail strategies, and industry news they need to innovate faster, smarter, better and more responsibly.
Download our full Global Cosmetic Industry 2023 media kit here.
New This Year
This year, we will be bringing ingredient and packaging trend bulletins to every issue, while providing key category updates at regular intervals to keep readers up on the latest in the fast-moving categories of hair care, skin care, color cosmetics, fragrance, oral care, wellness and more. 
And, because sustainability has become woven into every element and category in beauty, we will no longer cover "sustainability" as a standalone topic but rather as an intrinsic element of today's beauty innovation. 
Use our calendar to take advantage of opportunities across Global Cosmetic Industry's media universe throughout the year.
Want to contribute to the magazine? Here's what we're looking for.
Ingredient launches targeted to specific issue themes
Packaging launches targeted to specific issue themes
Brand launches targeted to specific issue themes
Brand leader thought pieces on: marketing, brand leadership, retail strategies, product development and more
R&D thought leadership articles on emerging technologies, product innovation and trends
Market data on consumers, markets, retail channels and more
Retail thought leadership
Technology thought leadership
Unique pitches that tackle novel issues facing the beauty industry
Investor& acquisition insights 
>>>For more information on marketing opportunities, contact Kim Jednachowski.
To subscribe, visit our magazine page.
Issues & Themes


JANUARY
SKIN CARE
New brand/product launches
New ingredients
New packaging
BATH & BODY
New brand/product launches
New ingredients
New packaging
INGESTIBLES/ SUPPLEMENTS
New brand/product launches
New ingredients
New packaging
COLOR COSMETICS
New brand/product launches
New ingredients
New packaging
INGREDIENTS
PACKAGING
New launches & sustainability breakthroughs
SUPPLIER INSIGHTS (digital magazine)
New Color Cosmetic Ingredients, Packaging & Trends
New Skin Care Ingredients & Trends
New Ingredients
New Packaging
Product Roundup
Packaging, Ingredients & Services 
Editorial deadline: 11/16/2022
Ad Close: 12/12/2022


FEBRUARY 
ORAL CARE
New brand/product launches
New ingredients
New packaging
HAIR CARE
New brand/product launches
New ingredients
New packaging
ANTI-AGING
New brand/product launches
New ingredients
New packaging
INGREDIENTS
PACKAGING
New launches & sustainability breakthroughs
SUPPLIER INSIGHTS (digital magazine)
New Hair Care Ingredients, Packaging & Trends
New Anti-aging Ingredients & Trends
New Ingredients
New Packaging 
Product Roundup
Packaging, Ingredients & Services 
Editorial due: 12/14/2022
Ad close: 1/6/2023


MARCH
SKIN CARE
New brand/product launches
New ingredients
New packaging
SUN CARE
New brand/product launches
New ingredients
New packaging
FRAGRANCE
New brand/product launches
New ingredients
New packaging
INGREDIENTS
PACKAGING
New launches & sustainability breakthroughs
SUPPLIER INSIGHTS (digital magazine)
New Skin Care Ingredients & Trends
New Sun Care Ingredients & Trends
New Fragrance Ingredients, Packaging & Trends
New Ingredients
New Packaging
Product Roundup
Packaging, Ingredients & Services 
Editorial due: 1/18/2023
Ad close: 2/3/2023 


APRIL
COLOR COSMETICS
New brand/product launches
New ingredients New packaging
HAIR CARE
New brand/product launches
New ingredients
New packaging
ANTI-AGING
New brand/product launches
New ingredients
New packaging
INGREDIENTS
PACKAGING
New launches & sustainability breakthroughs
SUPPLIER INSIGHTS (digital magazine)
New Color Cosmetic Ingredients, Packaging & Trends
New Hair Care Ingredients, Packaging & Trends
New Anti-aging Ingredients & Trends
New Ingredients
New Packaging 
Product Roundup
Packaging, Ingredients & Services 
Editorial due: 2/15/2023
Ad close: 3/3/2023 


MAY
SKIN CARE
New brand/product launches
New ingredients
New packaging
BATH & BODY
New brand/product launches
New ingredients
New packaging
INGESTIBLES/ SUPPLEMENTS
New brand/product launches
New ingredients
New packaging
ORAL CARE
New brand/product launches
New ingredients
New packaging
INGREDIENTS
PACKAGING
New launches & sustainability breakthroughs
SUPPLIER INSIGHTS (digital magazine)
New Skin Care Ingredients & Trends
New Ingredients
New Packaging 
Product Roundup
Packaging, Ingredients & Services 
Editorial due: 3/15/2023
Ad close: 4/7/2023 


JUNE
FRAGRANCE
New brand/product launches
New ingredients
New packaging
HAIR CARE
New brand/product launches
New ingredients
New packaging
ANTI-AGING
New brand/product launches
New ingredients
New packaging
INGREDIENTS
PACKAGING
New launches & sustainability breakthroughs
SUPPLIER INSIGHTS (digital magazine)
New Color Cosmetics Ingredients, Packaging & Trends
New Hair Care Ingredients & Trends
New Anti-aging Ingredients & Trends
New Ingredients
New Packaging 
Product Roundup
Packaging, Ingredients & Services 
Editorial due: 4/14/2023
Ad close: 5/5/2023 


JULY/AUGUST
COLOR COSMETICS
New brand/product launches
New ingredients
New packaging
SKIN CARE
New brand/product launches
New ingredients
New packaging
SUN CARE
New brand/product launches
New ingredients
New packaging
INGREDIENTS
PACKAGING
New launches & sustainability breakthroughs
SUPPLIER INSIGHTS (digital magazine)
New Skin Care Ingredients & Trends
Sun Care Ingredients & Trends
Fragrance Ingredients, Packaging & Trends
New Ingredients
New Packaging
Product Roundup
Packaging, Ingredients & Services 
Editorial due: 5/17/2023
Ad close: 6/2/2023 


AUGUST (ONLINE ONLY)
SKIN CARE
New brand/product launches
New ingredients
New packaging
SUN CARE
New brand/product launches
New ingredients
New packaging
INGREDIENTS
PACKAGING
New launches & sustainability breakthroughs
Editorial due: 5/17/2023


SEPTEMBER
HAIR CARE
New brand/product launches
New ingredients
New packaging
ORAL CARE
New brand/product launches
New ingredients
New packaging
INGREDIENTS
PACKAGING
New launches & sustainability breakthroughs
SUPPLIER INSIGHTS (digital magazine)
New Color Cosmetics Ingredients, Packaging & Trends
New Hair Care Ingredients & Trends
New Anti-aging Ingredients & Trends
New Ingredients
New Packaging 
Product Roundup
Packaging, Ingredients & Services 
Editorial due: 7/12/2023
Ad close: 8/4/2023 


OCTOBER
SKIN CARE
New brand/product launches
New ingredients
New packaging
BATH & BODY
New brand/product launches
New ingredients
New packaging
INGREDIENTS
PACKAGING
New launches & sustainability breakthroughs
SUPPLIER INSIGHTS (digital magazine)
New Skin Care Ingredients & Trends
New Ingredients
New Packaging
Product Roundup
Packaging, Ingredients & Services
Editorial due: 8/16/2023
Ad close: 9/8/2023


NOVEMBER
COLOR COSMETICS
New brand/product launches
New ingredients
New packaging
HAIR CARE
New brand/product launches
New ingredients
New packaging
ANTI-AGING
New brand/product launches
New ingredients
New packaging
INGREDIENTS
PACKAGING
New launches & sustainability breakthroughs
SUPPLIER INSIGHTS (digital magazine)
New Color Cosmetics Ingredients, Packaging & Trends
New Hair Care Ingredients & Trends
New Anti-aging Ingredients & Trends
New Ingredients
New Packaging
Product Roundup
Packaging, Ingredients & Services 
Editorial due: 9/15/2023
Ad close: 10/6/2023 


DECEMBER
2023 DIRECTORY OF SUPPLIERS
Annual publication of suppliers, manufacturers & service providers:
Ingredients
Packaging
Contract Manufacturing
Service Providers
Editorial due: 10/18/2023
Ad close: 11/09/23