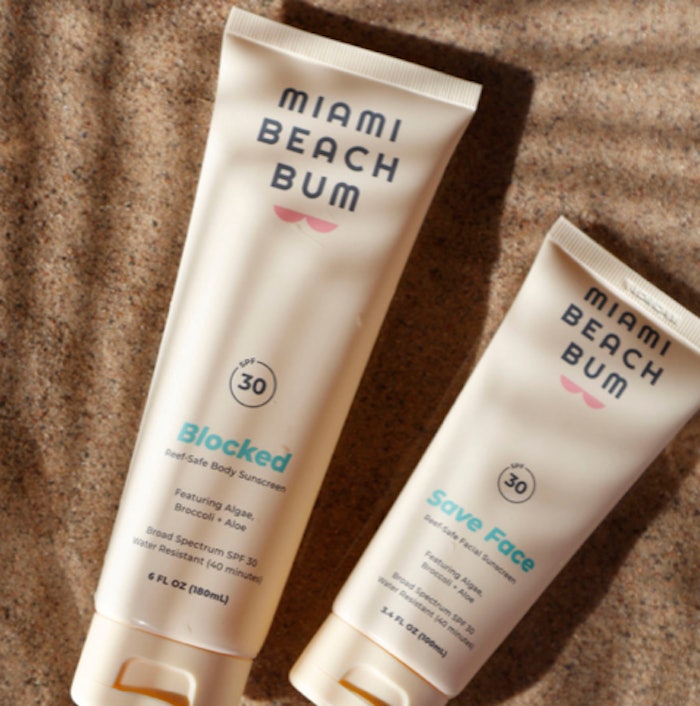 Miami Beach Bum has raised a $2 million seed round with an unnamed female angel investor, keeping with its mission to be 100% women-owned. 
The funds will be used to strategically scale channels—sales, marketing and product development—and secure an anchor retail partnership. 
Miami Beach Bum is specifically targeting health-conscious consumers in the Gen Z and millennial demographic who seek a sense of adventure.
In order to reach this core audience, Miami  Beach Bum is meeting their consumer where they are at, raising awareness via consumer facing initiatives and partnerships with like-minded brands like Alessandra Ambrosia's Gal Floripa and Left on Friday, among others.
The brand's assortment is also expanding with the launch of a new reef-safe sun care collection consisting of Save Face and Blocked for body. 
Formulated with superfood ingredient broccoli, these mineral SPF 30's will block UVA/UVB rays, protect from sun damage and moisturize skin all at once. 
Broccoli's properties reportedly prevent oxidative damage by reducing sun damage on the cellular level, such as fine lines, hyperpigmentation and sunspots. 
Blocked contains coconut oil and orange peel, providing a light beachy scent, while Save Face is a fragrance-free version for the more acne prone area that is your face, with additional hydrators, squalane and jojoba.
Both products are reef-safe with no impact on coral or marine life and come in PCR plastic tubes.
Miami Beach Bum is also introducing a new look for Hair Shield, a lightweight reef-safe leave-in conditioner that protects all hair types from sun, salt and chlorine. The brand has also restocked Mist Me 3-in-1 face and body spritzer and Totally Buggin' natural insect repellent.
Founder Ayssa DiPietro said, "After three years of sole ownership, bringing on an investor that aligns with and elevates our brand values was essential for me. It is important that they believe in what we are creating."