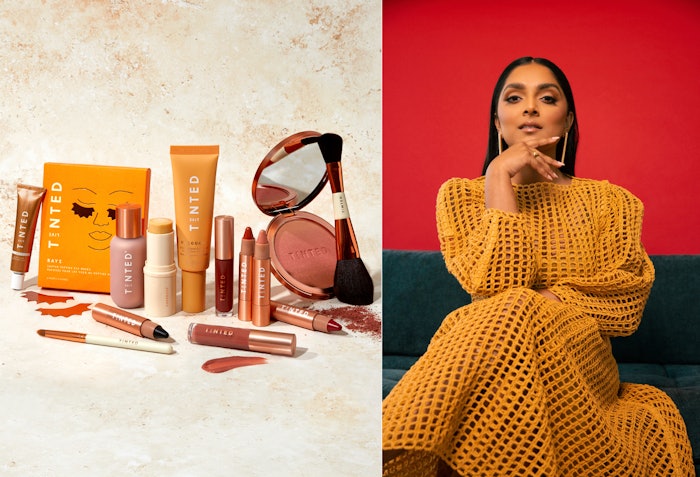 Live Tinted has closed $10 million series A round led by Monogram Capital Partners, which has previously invested in DS & Durga, Violette_FR and more, with support from Unilever Ventures, Devonshire Investors and Silas Capital. Previous investors in Live Tinted, including Montage Ventures, Halogen Ventures, Fearless Fund and Curate Capital, participated in this round of funding. 
The inclusive brand closed a seed funding round in 2021 with investors from Bobbi Brown, Nancy Twine of Briogeo, Savannah Sachs of Tula, Julie Schott of Starface, Payal Kadakia of ClassPass, Andy Dunn of Bonobos, Bela Bajaria of Netflix, Rupi Kaur, Hannah Bronfman, Jay Shetty and Radhi Shetty, Meena Harris, and more.
With this latest infusion, the brand's total lifetime funding comes in at $15 million. 
The current investment will boost the brand's expansion at Ulta Beauty, product innovation, category expansion, and marketing and executive hires.
Deepica Mutyala founded Live Tinted in 2018 and launched the brand's hero product, Huestick, a multistick and color corrector, in 2019. Live Tinted has now sold more than 1 million units.
Live Tinted is reportedly the first-ever South Asian brand to be available at Ulta, and is the fastest growing beauty brand in the retailer's Sparked program.
It was also named Ulta's "Emerging Brand of the Year" in 2021. 
"From the outset, Live Tinted really stood out to us as an inclusive and solutions-oriented brand for people with melanin-rich skin," says Oliver Nordlinger, co-founder and partner of Monogram Capital Partners. "Collaborating with Deepica and the rest of the Live Tinted team has been such a pleasure and we remain incredibly excited for all of the growth ahead."
"Live Tinted started for me as a way to bring an underrepresented community together," says Mutyala. "The process of raising and closing the funding was one of the toughest business journeys I've been through, especially as a woman of color. I wanted to find the right partners and investors to share my vision and beliefs for Live Tinted's future, who could also help the brand continue to grow and make a mark in the beauty industry."
"Ulta Beauty has been deeply inspired by Deepica's solution driven and inclusive mission, even early on in our conversations during the development stage of Live Tinted's first prototypes," says Muffy Clince, director of emerging brands at Ulta Beauty. "Throughout the brand's journey–from launching within Sparked at Ulta Beauty as an emerging brand in 2021, to now–we have continuously seen strong engagement from our guests and it has become one of our fastest growing emerging brands in the cosmetic category. We are so excited about the future growth potential for Live Tinted and the plans we have in place to further accelerate the brand this year!"