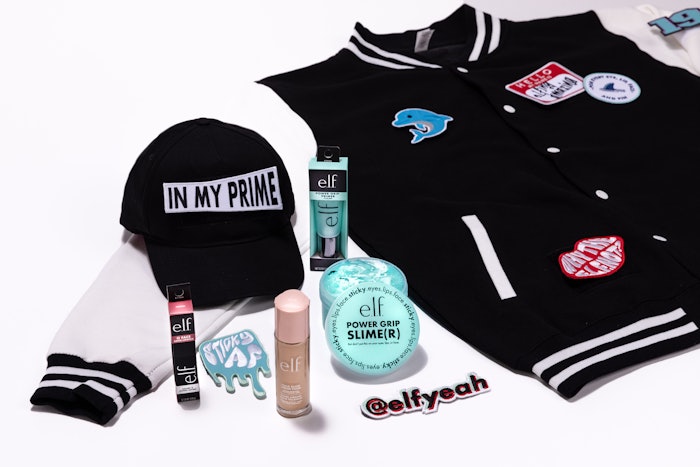 e.l.f. Beauty has launched its Sticky Shop merch collection—after the success of the brand's television commercial for the Power Grip Primer—featuring four limited-edition items.
Items in the collection include: 
Sticky Patch Patches: A set of eight embroidered collectible patches that have grippy backings. 
Sticky Patch Varsity Jacket: A letterman jacket that has hidden sewn-in sticky patches that will grip to any of the eight Power Grip Patches included with each jacket. 
Sticky Patch Hat: A customizable hat using the eight Power Grip Patches. 
Power Grip Slime(r): Slime inspired by the Power Grip Primer. 
Laurie Lam, chief brand officer at e.l.f. Beauty, said, "Power Grip Primer, the co-star of our big game TV spot, takes another lead role—this time, inspiring the creation of e.l.f.'s Sticky Shop merch."
Whale and Dolphin Conservation Donation
e.l.f. Beauty is donating $100,000 and committing to up to $25,000 in proceeds from the Sticky Shop merch to the Whale and Dolphin Conservation (WDC).
Lam said, "Our donation will support research and educational programs at WDC to inspire and engage young girls in marine life conservation and help them discover career pathways rooted in STEM."
Regina Asmutis-Silvia, executive director for WDC North America, said, "Hands-on activities stick with people and are an incredibly important way to engage students in marine science and conservation. We are so excited to work with e.l.f. to expand our elementary education program, inspiring students to protect the whales and dolphins who help protect our planet."