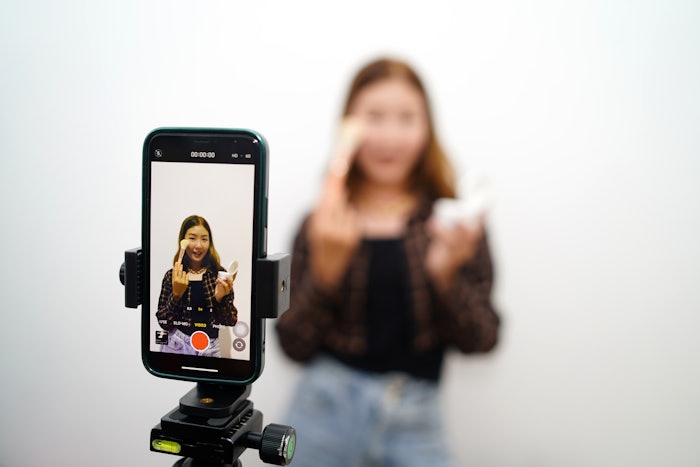 Daniel Pawer
As detailed in an X/Twitter post from lawyer Rob Freund, beauty brands are leaving themselves vulnerable to lawsuits by posting organic content featuring unlicensed copyrighted music.
The post was spurred by Sony Music's recent lawsuit against OFRA Cosmetics, which is accused of "unauthorized use of popular music tracks in their social media posts," according to a press release from AI copyright compliance platform Copyright Check. 
According to Copyright Check, "the total lawsuit has potential liability of over $49 million," with each violation possibly leading to a $150,000 fine.
The concerns are significant given the prevalence of music on TikTok in particular, as well as the platform's immense popularity with Gen Z and millennials.
Copyright Check notes that the problem may be immense, claiming that as many as 80% of beauty brands are risking "legal confrontations" related to improper use of music.
To learn more, we checked in with Gary MacDonough, founder of Copyright Check, to learn more about the mistakes brands may be making with music on social media.
"Many brands are using short form videos across social media to promote products," he explains. "It works very well for generating views and sales. They capitalize on trending music and drive more views for the videos. Often brands don't realize they need a commercial license to use the trending music (just like for TV ads)."
He adds, "Tiktok might be assigned to someone junior on the marketing team. They will post viral music on their personal profiles. They don't realize they cannot do the same on a business profile. If a brand is posting several times a week ... all these violations add up."
MacDonough adds, "The big music companies like Sony and Warner are monitoring this and launching lawsuits against brands who repeatedly commit copyright violations. Each violation can result in a $150,000 fine so these lawsuits are in the millions. It can be absolutely crippling for a brand. Repeated copyright violations may also cause Tiktok to suspend an account. This is a loss of marketing efforts and a valued sales channel."
The Copyright Check founder notes that a common practice, simply giving credit in a post to a musical artist, is not legitimate legal cover. On this point,  MacDonough is unequivocal: "There is no cover from an infringement claim by giving credit."
So what should brands do to remain within the bounds of the law?
"Brands need to conduct an audit of all their social channels to remove the potentially copyrighted material," MacDonough says. "They can do this manually but they may miss some. It will take a long time if they have a huge catalogue of videos to check. Or they can use a service like ours."
He adds, "We would recommend using the available commercial music libraries available on the respective platforms."
This includes TikTok and Meta (for Facebook).
"Or," suggests MacDonough, "brands can pay to use music from the likes of Epidemic Sounds or Artlist.io. Brands need to provide training to their staff on appropriate use of music on their social channels. They need to be clear in their content and influencer briefs that songs from big artists like Beyonce, Justin Bieber, Selena Gomez, etc., cannot be used."