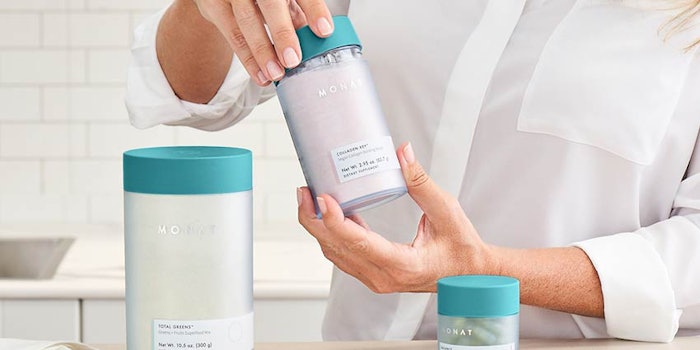 Earlier this year, Monat launched Monat Wellness, a range of ingestible products, including: Monat Energy Boost for Body + Mind; Total Greens, a superfood mix comprising greens and fruits; Collagen Key, a vegan formulation comprising collagen building blocks; and Monat Balance, a complex of pre- and probiotics.
The move was in line with beauty's booming ingestible revolution. The formulations cover the key demands of the space, namely cognition, energy, mood, beauty and nutrition. Notably, sleep/calming is not currently encompassed by the initial collection.
In this exclusive video interview, Jeb Gleason-Allured, content director of Global Cosmetic Industry, speaks with Dr. Brent Agin, who is a member of Monat's scientific advisory board, about the brand's move into ingestible wellness.
More about the Wellness Range
Monat Balance supports digestive health and regularity, per the brand, and supports a healthy skin and immune system.
The formulation also boosts "good bacteria" within the gut by providing 5 billion colony-forming units and 13 strains via a delayed-release, capsule-in-capsule technology.
Collagen Key is a vegan-sourced amino acids to support collagen production and thereby supports the healthy appearance of hair, skin and nails, according to Monat.
The formulation boosts skin moisture, elasticity and smoothness and reportedly features antioxidants like vitamin C in a sugar-free formula with a natural peach berry flavor.
Total Greens features a blend of 37 fruits and vegetables, as well as 4 g of dietary oat fiber to support digestion.
The formulation, featuring a sugar-free Berry Green flavor, reportedly helps improve energy and mood and supports the immune system and total body hydration.