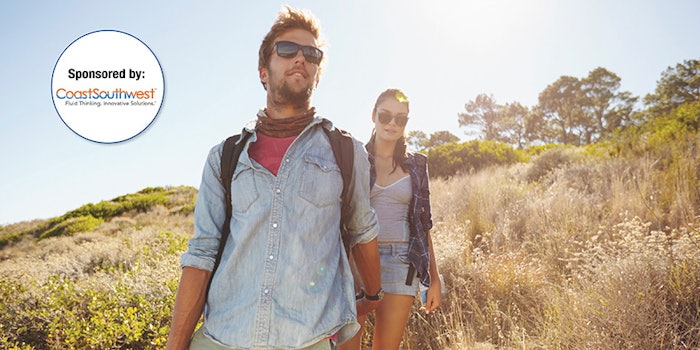 Men and women often have similar patterns when it comes to natural/organic beauty and personal care (NOBPC), but the differences offer new insights and opportunities for brandsa.
Why Men Buy NOBPC
Almost half (49%) of men surveyed in our mini study of male consumers (n=169) say they buy NOBPC products at least some of the time, with most stating:
such products are healthier to ingest or apply topically (66%)
that they just feel better about purchasing NOBPC (57%)
that they believe these products are better for the environment (55%)
Like their female counterparts, male NOBPC buyers expect their products to be free of harmful chemicals but still maintain maximum efficacy. As for what's most important for them in an NOBPC product, respondents' top three concerns were:
price (72%)
that the brand doesn't test on animals (60%)
that the product is BPA-free (59%)
Where Men Shop and What They Buy
Male respondents, like their female counterparts, primarily purchase NOBPC items from Amazon (68%), followed by superstores (46%). Men report that they're buying both natural and organic skin care and grooming products at the same—or even greater—than the percentages of women who buy similar products.
For instance, 42% of men say they've bought both organic and natural lip balm in the past year, compared to 35% of women. Thirty-seven percent of men say they've used both a natural and organic body wash in the past year, compared to 27% of women. And 46% of men believe they've used both natural and organic toothpaste in the past year, compared to 25% of women. Natural/organic versions of these everyday products are purchased most often for both men and women.
Top NOBPC Opportunities for Men
For men, the biggest opportunity for NOBPC products are specialty items like facial wipes (40% of men have not bought natural or organic wipes, but would like to), along with facial treatments (40%), sunscreen (37%), shaving/grooming products (36%), ingestibles (35%), hair styling products (34%), nutraceuticals (33%) and exfoliators (31%).
Gauging Men's Brand Awareness
Men have a relatively high level of awareness for NOBPC brands, and the top 10 brands they are aware of nearly echo those of their female buyer counterparts (T-1).
Top NOBPC Brands Men Have Tried or Currently Use
Finally, and again similar to female buyers, Aveeno, Burt's Bees, Tom's of Maine and other well-known names in the NOBPC world top the list of brands that he's used or tried (T-2). Now, what about the women?
Women's Natural & Organic Brand Awareness: 2008 Vs. 2018
In the past 10 years, countless artisans, indies and beauty industry giants have either stuck a toe in the natural/organic waters or gone all-in and transformed their entire brand into a natural or organic offering. With so many beauty brands claiming to be natural/organic, gaining awareness and being remembered by today's educated consumer is essential.
In 2008, TBC's Age of Naturals PinkReport survey asked women to tag every natural or organic beauty brand they were aware of. We asked the same question in 2018—with, of course, a much longer list of brands—to see which brands have moved the needle the furthest over the past decade.
A number of brands stand out on this list (F-2). Tom's of Maine, owned by Colgate since 2006, was one of the first natural personal care brands to make it big and still rules its place in the market. Kiehl's, founded in 1851 and now owned by L'Oréal, has always been known to use significant amounts of natural ingredients and has established more than 250 standalone stores.
Lush, founded in 1995, has found continued success with its eco-friendly and charitable persona. Carol's Daughter, acquired by L'Oréal in 2014, has a unique niche as one of the first multicultural lines with natural claims.
Finally, mainstays Aveeno, Burt's Bees, Aveda and The Body Shop continue to have high brand awareness among all womenb.
Women's Brand Awareness by Buying Type
Current buyers of NOBPC products have a higher level of awareness of NOBPC brands overall. While awareness of the top (mass) brands is nearly equal, those who buy natural/organic are in some instances almost twice as likely to have heard of an indie brand. Brand awareness varied a great deal by generation, with awareness levels differing between age groups by 20% or morec.
Top Brands Women Use
We asked women about their favorite natural and/or organic brands in hair care, skin care, makeup, and bath and body using a pre-set list of popular brands (respondents had the opportunity to write-in their brand if not represented; T-3). Some of these brands may not truly be organic or natural; however, when asked in an open-ended format, these were the brands that consumers identified as natural or organic.
Mainstay mass brands like Aveeno and Burt's Bees consistently garnered the top spots, with brands like EOS and Lush being particularly popular among the younger set. The more established prestige brands such as Kiehl's and Bare Minerals are favored by older generations.
Next Month: Wellness and Packaging Implications
In Part 4, the conclusion of this series, we will touch on natural/organic package design associations and how the concept of wellness influences women's decision to buy natural/organic beauty.
___________________________
Denise Herich is co-founder and managing partner at The Benchmarking Company (www.benchmarkingcompany.com), which provides marketing and strategy professionals in the beauty and personal care industries with need-to-know information about its customers and prospects through custom consumer research studies, focus groups, its annual PinkReport and consumer beauty product testing for marketing claims.
Footnote:
aThe Benchmarking Company's (TBC) 2018 PinkReport: The New Age of Naturals, provides an in-depth look at the natural and organic beauty buyers in the United States. Thousands of U.S. consumers were invited to take part in the online survey, which was completed by 4,000+ respondents. The comprehensive survey instruments, which included more than 80 in-depth questions, was developed based on exploratory psychometric and demographic questions. To qualify for this study, respondents had to live in the United States, be over the age of 18, and shop for beauty or personal care products. All research was conducted in April 2018.
bThe full list, containing 50 brands, is found in the PinkReport.
cThe PinkReport details brand awareness by generation.