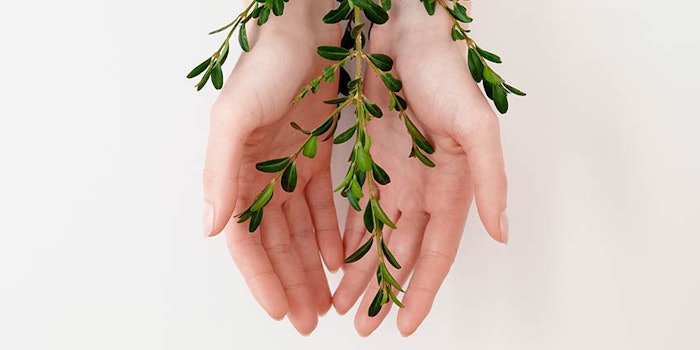 It might seem like a simple question: Why do people buy natural products?
According to a reporta from Denise Herich of The Benchmarking Company, 68% of consumers buy natural and organic products. Of those surveyed, 95% said they buy more natural products than they did 10 years ago.
At the same time, 95% of consumers surveyed cite product efficacy as the most important factor when they choose products. As a result, the cosmetic market is evolving to support priorities like safety, performance and responsibility.
Safe & Eco-friendly?
The benefit of natural products is that, in general, they're often considered by the consumer as better for the environment—though that may not always be the case. Theoretically, these products align with the goals of consumers concerned with toxicity and pollution in water runoff and oceans. However, while natural products may sometimes be safer for the environment, are they always safer for human health?
If you ask 500 people, "What would you rather put on your skin, pure silicones or pure essential oils?" the majority will likely choose the oils. Indeed, a number of studies suggest atopic dermatitis has been on the rise since the 1960s, possibly due to environmental agentsb. But that's not the whole story.
"But just because something is natural, doesn't necessarily mean it's good for you. The promised land is safe and effective."
"Natural" is implicitly equated with safety, and yet ironically essential oils are a quintessential example of natural ingredients laden with allergens. Even jojoba oil, ubiquitous in "sensitive" products, is a proven source of contact dermatitis and sensitizationc. Still, the majority of consumers are unaware that natural ingredients can cause severe reactions.
Industry Transparency & Messaging
That's why it's so important for marketers, R&D teams, suppliers and retailers to collaboratively develop quality consumer education and push back against alarmism—the unnecessary excitement of fear. Alarmism spreads rapidly through social media, exaggerating danger and causing misinformation to flourish.
"You want a product to be both efficacious and safe," says Margarita Arriagada, former chief merchant of Sephora. "But just because something is natural, doesn't necessarily mean it's good for you. The promised land is safe and effective."
"We have to treat skin. There are a lot of women out there that have eczema or other skin conditions. Only science can give you that level of treatment."
Certain allergens and harmful irritants can be disguised by natural ingredients, and it's up to brands and retailers to protect consumers by providing factual information.
"The entire beauty industry needs to be transparent," says Arriagada. "That is clear." Recently, the European Union has taken steps to provide some transparency, requiring brands to list commonly identified allergens on their ingredient listings.
Case in Point: Silicones
Imagine there is an inert, non-reactive ingredient to aid in the aesthetics of formulas by providing incredible sensorial aspects without irritating the skind. Also imagine that this ingredient is safe and compliant with the new Clean at Sephora beauty standardse. Such a thing exists. We're talking, of course, about silicones.
Clean & ethical
Silicones are derived from quartz, commonly known as sand, which makes them inherently sustainable. Because they're never animal-derived, they are vegan and cruelty-free by default.
Their palm-free status, meanwhile, alleviates any concern about whether a product contains unsustainable or unethically sourced palm derivatives. Finally, silicones are GMO-free, colorless, odorless and non-ionic, with no oxidation issues. 
Gentle & safe
Increasingly, the more valuable product characteristic for the consumer is not whether something is 100% organic, but whether it is 100% safe to use on their skin. Or their grandmother's skin. Or their baby's skin.
Silicones are some of the most innocuous and gentle ingredients known to man, evidenced by nearly 70 years of research and consumer use historyf. Due to their incredibly low incidence of allergies, hospitals rely on silicone-based dressings for wound care. In the consumer market, over-the-counter skin protectants and silicone scar sheets are FDA-approved to prevent scarring.
No sacrifice in performance
It's also important not to compromise efficacy in order to attain a natural ingredient listing. From a practical standpoint, silicones "play nice" in combination with even the most delicate and reactive ingredients. 
They also provide heavenly sensorial and visual textures. Even consumers who know nothing about silicones can appreciate the cloud-like cushion of an elastomer.
"The natural movement has in some ways overshadowed many science-based brands that are safe and highly efficacious," says Arriagada. "We have to treat skin. There are a lot of women out there that have eczema or other skin conditions. Only science can give you that level of treatment."
Get the Rest of This Article
The full version of this story will appear in the February 2019 issue of Global Cosmetic Industry; to sign up and access your free copy when it becomes available, click here.
Footnotes
aDenise Herich, "The Natural & Organic Beauty Consumer: 2008-2018," https://gcimagazine.texterity.com/gcimagazine/april_2018/
bClin Exp Dermatol. Nov;17(6):385-91 (1992)
cMichael J. Scott, "Jojoba oil." Journal of the American Academy of Dermatology, Volume 6, Issue 4, Part 1, Page 545 April (1982)
dMichael Starch, "Silicones' Benefits in Antiaging Skin Care, "Cosmetics & Toiletries, November (2008)
ewww.sephora.com/clean-beauty-products; "Sephora Launches Clean at Sephora," www.gcimagazine.com/business/marketers/announcements/
fStevens C., Int J Cosmet Sci. 1998 Oct, 20(5):296-304, "Environmental fate and effects of dimethicone and cyclotetrasiloxane from personal care applications."