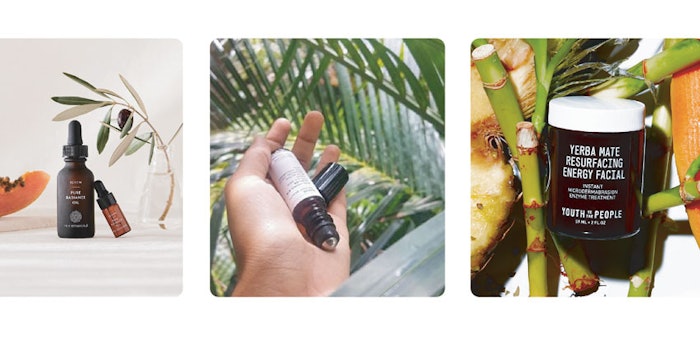 Dash Hudson's AI technology has the power to read images beyond the scope of the human eye. It can analyze every component from subject to composition, color palette, texture, setting and more. This technology was created to understand the minute visual details that drive engagement.
Dash Hudson used its Visual Trends tool to review the Instagram accounts of clean beauty brands and surface current aesthetic trends in the category. The results are telling—even within one specific niche of the skin care space, micro-trends arise as brands are further categorized.
In this case, skin care brands were broken down by ethos: clean, vegan and cruelty-free. Each subset of brands revealed its own visual approach, but they all reinforce the notion of skin care as a sensory experience.
1. Tried and True Blue
Blue is a standout color for clean skin care brands this season. From bottles to packaging to background settings, variants of Pantone's color of the year are taking over our beauty feeds. The hue does add aesthetic value but also has a subconscious impact that could influence the way audiences perceive the content.
In color psychology, blue is considered calming, dependable and luxuriousa—three traits directly correlated with our deepest skin care desires. The shade is a visual choice that sees high engagement and effectiveness across the board.
Clean brands average engagement rate: 1.19%
Trend average engagement rate: 1.5%
2. Plant Based
It is no surprise that vegan skin care brands love flora, and this season it is featured more prominently than ever. Juxtaposing products and plants help give context to the formulas, ingredients and their natural origins.
Though green would be the obvious color choice for a plant-themed visual, these brands are exploring the entire color wheel without diminishing the intended organic vibe. The play on textures is also striking—another nod to the sensorial skin care experience—and audiences are responding positively.
Vegan brands average engagement rate: 0.70%
Trend average engagement rate: 1.16%
3. Serving Face
Cruelty-free skin care brands are reminding us that their products have a function in our everyday lives. They take the up-close-and-personal approach, featuring tightly cropped face shots with their products in use. It's wildly popular and highly effective, racking up the highest rates of the bunch across KPIs. Audiences want to see themselves reflected in their skin care content, and this trend provides that experience in spades. We get a preview of the product texture, application and results in one image—a win-win for participating brands.
Cruelty-free brands average engagement rate: 1.21%
Trend average engagement rate: 2.45%
Footnotes:
a) https://blog.hubspot.com/marketing/psychology-of-color
Michaela Atkinson is the head of content at Dash Hudson.