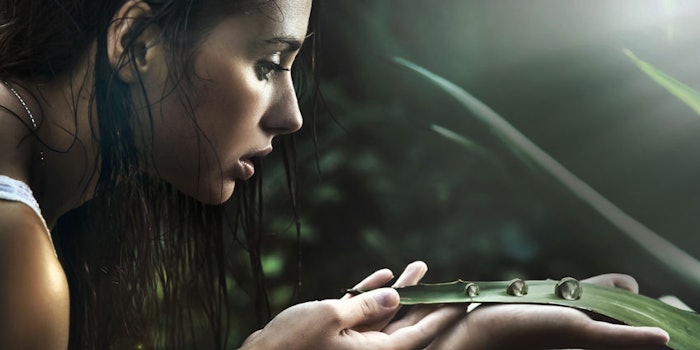 The market for brands that are positioned as natural has evolved from what is often described as "crunchy," or somewhat aesthetics-averse, to a more sophisticated design-centric and technology-forward ethos. At the same time, these brands have expanded from the natural retail niche to every channel, from mass to premium.
Here, Global Cosmetics Industry presents the latest market data available on the market, as well as insights into what's driving the category and where it's headed.
U.S.: A Wellness-driven Natural Market
Manufacturers' sales of natural personal care products reached $5.7 billion in 2016, up 9.2% from 2015, according to Kline Groupa (F-1). Consumers' increasing focus on wellness—from diet to exercise to self-care—are a leading factor behind this growth, according to Naira Aslanian, project manager of Kline's consumer practice (see Better for You Beauty).
This awareness centers on ingredients, particularly consumer wariness around conventional/synthetic materials, has boosted a desire for natural formulations. Brands have responded with a spectrum of offerings, from wholly natural to partially natural to what Aslanian describes as "natural-inspired." Brands excelling in this sector include Farmacy, Honest Beauty and Beautycounter.
Key takeaways from the 2016 market, according to Aslanian, are:
Facial treatments are a leading growth driver in skin care, which comprises the majority of U.S. natural beauty care product sales.
"Other toiletries," the category's second-largest segment, has experienced strong growth in personal cleansing products.
Natural hair care sales have outpaced those of natural makeup, in part due to a lack of mass retail growth for the latter segment.
Better for You Beauty
"Parents are information seekers when it comes to raising their kids and, therefore, could be more aware of ingredients to avoid in their children's personal care products, as well as their own," said Jana Vyleta, health and personal care analyst at Mintel.b "This presents an opportunity for natural and organic personal care brands to target parents, as they should incentivize them to purchase both adult- and child-specific products."
She added, "To increase sales and household penetration, players should work to reduce skepticism evoked by fragmented and confusing claims, and emphasize purchase motivators, i.e. safety and quality. A focus on simplicity and familiarity continues to resonate with shoppers more than certifications or less familiar claims."
The trend resonates for adults as well—parents or not. Recently, The Honest Company introduced more than 30 SKUs into Target, including the Truly Kissable Lip Crayon and the Refreshingly Clean Gel Cleanser, which tout "safe, botanically driven ingredients," which the retailer described as "one step toward our goals focused on offering our guests better-for-you products free of unwanted chemicals." Target previously brought natural-skewing brands such as Beautycounter, Fig + Yarrow and S.W. Basics to its shelves and ecommerce.
"Parents are information seekers when it comes to raising their kids and, therefore, could be more aware of ingredients to avoid in their children's personal care products, as well as their own."
Honest Company founder Jessica Alba noted, "I believe that everyone deserves to have access to clean beauty products … When it comes to beauty, women often compromise from the neck up. I believe Honest Beauty can go head-to-head with conventional [products] when it comes to pay-off and performance."
Recently, Whole Foods Market celebrated Beauty Week 2017 with the hashtag #CleanBeautyFaves. The retailer celebrated the week by offering beauty bags comprising brands such as Dr. Hauschka, evanhealy, Juice Beauty and Trilogy. Whole Foods Market has notably disallowed more than 75 ingredients from the brands it carries, including phthalates, microbeads, triclosan, BHT, BHA and aluminum chlorohydrate.
Ethics and Safety Lead Naturals in the United Kingdom
Manufacturers' sales of natural personal care products in the United Kingdom amounted to more than GBP 700 million in 2016, up 7.8% from the previous year, according to Kline Group (F-2). Like their U.S. counterparts, U.K. consumers are driven to the category by concerns over harmful ingredients, as well as a desire to purchase products from brands that have staked ethical positions in sourcing and environmental impact issues. Furthermore purchasing decisions can be motivated by "Made in Britain" claims, Aslanian notes.
Key takeaways for the U.K. market include:
Skin care comprises nearly half of the natural beauty care market and represents some of the category's fastest growth. This expansion has been due in part to the rise of indie brands such as Skin & Tonic and Aurelia Probiotic Skincare.
Personal cleansing products from brands such as Lush and The Body Shop have propelled the "other toiletries" naturals category.
Hair care brands such as Aveda are leading growth by excluding ingredients of concern, including sulfates and phthalates.
Footnote:
bNatural and Organic Personal Care Consumer US 2016; http://store.mintel.com/natural-and-organic-personal-care-consumer-us-december-2016