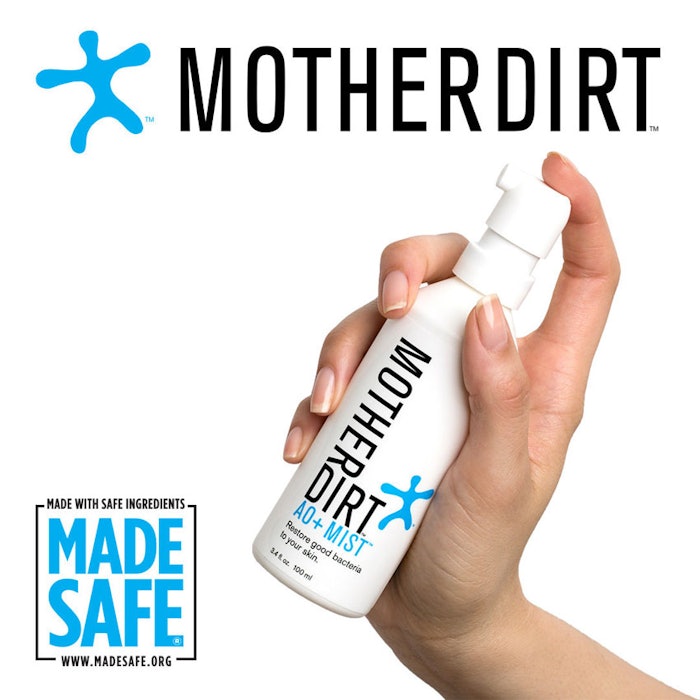 Known for its live probiotic skin care products, Mother Dirt's AO+ Mist is derived from plant-based materials that are both good for the environment as well as the skin. Now, the brand has announced that its AO+ Mist boasts the Made Safe seal of approval.
Made Safe's certification aims to "remove the burden from average consumers who want to know that what they're buying is safe to use on their bodies, with their families and in their homes, but have difficulty navigating ingredient labels." Through the verification process, products receive extensive analysis to certify that they are free from known carcinogens, reproductive toxins, endocrine disruptors, behavioral toxins, flame retardants, heavy metals, pesticides, insecticides, toxic solvents and VOCs.
"We're honored that MADE SAFE has validated Mother Dirt's dedication to safe product formulation," said Jasmina Aganovic, president of Mother Dirt. "As a science-based company, securing the approval of third-party scientists and experts in the field is integral to our development process. The Made Safe seal only reinforces our continued efforts to select ingredients that are truly safe and nontoxic for our products."
Additionally, Made Safe verification ensures products will not build up in the body (bioaccumulation), are biodegradable and are not toxic to aquatic life.
"Mother Dirt has been the leader in microbiome innovations, with ingredient safety at the core of its formulation process," said Amy Ziff, founder and executive director of Made Safe certification. "Made Safe is a proud ally of the brand in showing consumers that safer and effective products are possible."