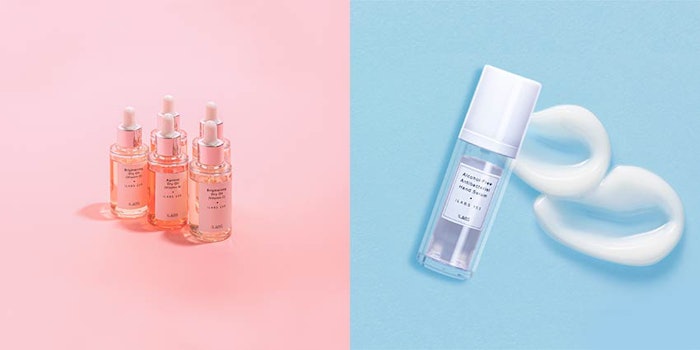 Addressing the rapidly changing needs of consumers, startup brands and influencers, iLabs has developed a trio of product concepts that highlights where innovation might be heading next.
1. Hand sanitization 2.0
Hand sanitizers offer consumers the safety and hygiene they're looking for, often at the expense of the skin's well-being. iLabs' water-based Alcohol-Free Antibacterial Hand Serum offers a remedy.
The formulation is designed to quickly kill 99.9% of bacteria, while offering moisturizing and gentle care for all skin types.
The serum is powered by benzalkonium chloride (for sanitizing effects), hyaluronic acid and panthenol (for moisturization and hydration, respectively), Calendula officinalis (for antioxidant, anti-inflammatory and antiseptic activity), and Aloe barbadensis leaf (for moisturization and anti-inflammatory activity).
See iLabs' earlier hand sanitizer concepts here.
2. Colorful clinical skin care
With the rise of clean-ical brands and consumer demands for proven efficacy, brands will increasingly have to prove their worth. 
In response, iLabs has developed a pair of clinical vitamin concentrates that feature eye-catching colors and impactful ingredients. 
The Ageless concentrate features effective levels of retinyl linoleate (for brightening and anti-aging benefits); a carotenoid complex comprising carrot root extract, carrot seed oil and beta-carotene (for blue light defense and a livelier skin appearance); and vitamin-packed (A,C,E) and ellagitannin-rich cloudberry oil. 
The Hyperpigmentation concentrate features tetrahexadecyl ascorbate, a stabilized and active form of vitamin C (for collagen synthesis and skin brightening/tone-evening), vitamin C-rich dragonfruit seed oil (to reduce redness and inflammation), and hemisqualane (for skin elasticity and suppleness for a smooth, plump finish). 
3. Solid format skin care
iLabs Clinical Vita Serum Sticks deliver the efficacy demanded by today's consumers while adding a unique and mobile format that fits easily into daily routines. 
The Anti-Aging (Vita-A) stick features technologies found in the Ageless concentrate, such as cloudberry oil, iLabs' carotenoid complex and efficacious levels of retinyl linoleate, as well as hemisqualene (found in the Hyperpigmentation concentrate) and kahai oil, which comprises vitamin E, linoleic acid and natural retinol for improved skin firmness, elasticity and skin resilience. 
Meanwhile, the Hyperpigmentation (Vita-C) stick features cloudberry oil, hemisqualane, kahai oil and efficacious levels of tetrahexadecyl ascorbate, offering a vitamin C-rich formulation. 
Innovating for today's brands
iLabs was founded in Mahwah, New Jersey by CEO David C. Chung, who sought to offer an innovation hub for indie, upstart and influencer-driven brands that require specific services and market-ready concepts. 
The company's B2B e-commerce platform allows brands to shop ready-to-launch formulas with minimum order quantities between 300 and 500 pieces. In addition, iLabs offers facilities for independent chemists requiring lab space—like an Airbnb model. 
iLabs specializes in OTC products, antibacterial sanitizers, personal care, clean beauty and CBD/hemp products. Its innovations span skin care, color, men's care and hair care. 
Its services include R&D, manufacturing, filling and packing, and quality and regulatory.